In terms of the sheer number of species and of individual animals, Anoles may be the most successful of all lizard groups.  Each year, herpetologists add several new discoveries to the total species count – which now stands at 388!  In Anole-rich regions, several seemingly-similar species manage to co-exist in the same habitat…and many thrive in and around towns, farms and even cities.  Their adaptability sometimes leads to staggering population densities, with up to 10,000 Anoles per acre being present on some Caribbean islands!  Intelligence may also play a role in their success, as is shown by this fascinating study .  Many herpers of my generation were introduced to reptile-keeping by the Green Anole, Anolis carolinensis…today we'll take a look at the fascinating, diverse family to which it belongs.
Classification
The world's 388 Anole species are classified in the family Dactylidae (formerly Iguanidae) and the genus Anolis. 
Description
Most Anoles are alert and active, and nearly all have a streamlined body with long tails, limbs and digits.  Males have colorful dewlaps (areas of loose skin below the throat) that are erected during mating and territorial displays. Female Green Anoles, and those of several other species, sport smaller, less colorful dewlaps.  The body color is usually some shade of green, tan or brown, and many are capable of rapid color changes.
Anoles range in size from the various Twig Anoles, which barely reach 3 inches in length, to Cuba's Knight Anole, A. equestris, an 18-inch long hunter of treefrogs, lizards, small snakes, and nestling birds.  The Grenada Anole, A. richardi, is also sizable, sometimes exceeding 12 inches in length.  Most Anoles, however, measure 6-8 inches when fully-grown.
Range and Habitat
Anoles range from the southern United States through the Caribbean and Mexico to Central and South America.  Mexico is home to over 50 species, while well over 100 occupy various Caribbean islands.  The USA has but a single native, the Green Anole.  However, it is by no means "Anole-poor", as stowaways and released/escaped pets have resulted in the establishment of breeding populations of at least 9 foreign species!
In the USA, all introduced species except the Brown Anole are restricted to Florida, which is now home to Hispaniolan Green, Puerto Rican Crested, Barbados, Marie Gallant Sail-Tailed, Cuban Green, Jamaican Giant, Large-Headed, Bark, and Knight Anoles.  The highly adaptable Brown Anole has managed to extend its range into southern and perhaps central Georgia.  First documented in peninsular Florida in the 1940's (and likely established earlier in the Florida Keys), the USA's Brown Anole population is comprised of 2 interbreeding subspecies – the Cuban Brown Anole, Anolis sagrei sagrei and the Bahaman Brown Anole, A. s. ordinatus.
While ground-dwellers are known, most Anoles are arboreal, with different species (often in the same habitat) favoring reeds, bushes, tree trunks, low limbs, and forest canopies.  Anoles have adapted to life in rainforests, dry forests, cities, farms, suburban yards, arid scrub, swamps, brushy grasslands, riverside thickets, and many other environments.  Some, such as the Cuban Brown Anole, may actually be more common around human dwellings than in their natural habitats.  This highly adaptable lizard has actually been observed to quickly change to an arboreal lifestyle after the introduction of a terrestrial predator (please see this article); many believe that it is also responsible for decline in Florida's Green Anole population.
Anole Care and Feeding
Anoles make wonderful pets, as they are out and about by day, and usually quite active; their group dynamics will keep even the most experienced keeper fascinated.  Many breed year-round if properly cared for, and some may be housed with certain treefrogs, skinks and other animals.  However, the common opinion that Anoles are a "beginner's" lizard does these fascinating creatures a great disservice.  All Anoles are highly-complex, and have very specific needs that must be met.  Without ample space and cover, proper temperatures, access to UVB and a highly-varied diet, they will not thrive.  Please see the linked articles for detailed information on their care, and be sure to post your questions and observations below.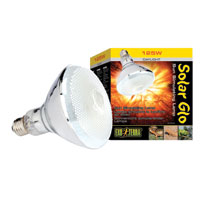 Anoles feed largely upon flies, caterpillars, spiders, beetles and other invertebrates, and many also take over-ripe fruit, nectar and sap.  Larger species, such as the Grenada and Knight Anoles, occasionally add smaller lizards, frogs and snakes to the menu.
Anoles are major food items for predators ranging from large spiders to small mammals and birds.  Therefore, most are instinctively wary, and they tend to remain high strung in captivity. While there are exceptions, few take well to handling.
Further Reading