After shedding, leopard geckos (Eublepharis macularius) sometimes exhibit a condition that superficially resembles what snake owners know as "retained eye caps". However, the structure of a leopard gecko's eye, and that of the closely related banded and fat-tailed geckos, is nothing like that of a snake's, and problems following shedding must be addressed in a very different manner.
Leopard Gecko Eye Structure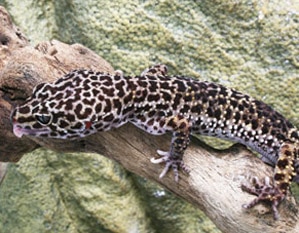 Leopard, banded and fat-tailed geckos are classified in the gecko subfamily Eublepharinae, and differ from all other geckos in having movable eyelids. In fact, the genus name, Eublepharis, means "true eye lids". The eyes of all other species in the family Gekkonidae are covered by a transparent cap, or spectacle, which is fused to the eyelids (like snakes, they cannot blink their eyes).
The eyelids of leopard geckos and their relatives are lined with a thin layer of skin. This eyelid liner is replaced along with the rest of the gecko's skin when shedding occurs. However, if conditions are too dry in the terrarium, the eyelid lining may stick to the lid and be retained after shedding. This will lead to an irritation. Eventually, an infection will set in and cause the eye to swell.
Diagnosis and Treatment
The retained skin is thin but visible, so check your gecko carefully after it sheds. Geckos so affected will also blink a great deal, and may rub the area.
While experienced hobbyists may be able to remove retained eye caps (brille) from pet snakes, retained eyelid liners are an entirely different matter. This problem must be attended to by an experienced veterinarian only.
Avoiding Problems: Humidity and Diet
An overly-dry environment seems to be the main factor leading to retained eyelid liners. Although geckos are native to quite arid habitats, like all desert animals they are able to find moist retreats, usually below ground, when necessary. It is easy to overlook this when keeping desert animals. For years zoos kept Gila monsters, native to one of the driest places on earth, in bone-dry exhibits. Field research showed, however, that these lizards actually spend 90% of their time in burrows where humidity levels are quite high.
Shedding aids are useful for lizards of all types, especially desert-adapted species.
Low Vitamin A levels have also been implicated in gecko shedding problems. Be sure to provide your lizard with a varied diet and appropriate vitamin/mineral supplements. Please write in if you need detailed advice on feeding your gecko.