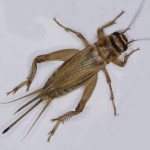 We all love our reptiles, but most of us loathe their lunch. Many reptiles that we commonly keep as pets are insectivores, and the most commonly available feeder insect is the domestic cricket. Yes, you read that correctly, "domestic." Scientifically referred to as Acheta domesticus, the type of crickets sold as feeder insects have a higher protein value and a more docile nature in comparison to their wild counterparts.
Although there are a few loopholes, due to laws that govern the importation of potentially invasive species, insects which are sold as feeders in pet stores throughout the United States and Canada must be domesticated versions of their wild counterparts. The process of domestication involves strict breeding guidelines which are used to bring out certain favorable characteristics within a species, and also ensure that they (hopefully) couldn't cause too much harm if released into the wild.
Despite their assumed hardiness, many of our reptile room customers often ask the same two questions: "What can I do to keep these darn things alive?" and "how do I keep them from escaping?"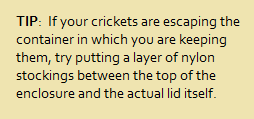 Even though we tend to simply think of them as food for our pets, crickets are living animals themselves and these points need to be kept in mind.
They need to eat: Crickets will eat almost anything. In the Reptile Room at our store we feed a special mixture of oatmeal, fish food, turtle food & dog food crumbs.
They need to drink: Crickets aren't the smartest creatures, and if you put a dish of water in their enclosure they might drown. I prefer to use an all in one cricket food/drink combo such as Fluker's Complete Cricket Diet. This provides both water and food for the cricket.
You need to clean out their enclosure: Even if you are just keeping them in an old plastic takeout container that you don't really care about, waste products and dead crickets must be removed on a daily basis. When debris begins to break down it creates ammonia gas. After enough ammonia accumulates, the remaining crickets can quickly suffocate and die off.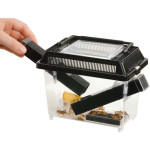 You don't have to have crickets jumping all over your house: Crickets are naturally tunnel/cave dwelling creatures, therefore they are attracted to darkness. You can use this to your advantage to keep them in their container, and off of your floors. Cricket Keepers such the Exo Tera Cricket Pen are a great thing to have. They have slots on their sides where dark plastic tubes are inserted. Being attracted to the darkness, the crickets hide inside of the easily removable tubes. All you have to do is slide out the tube, shake some crickets into your pet's enclosure, then pop the tube back into the cricket pen.