I've crisscrossed every inch of the American Museum of Natural History – unquestionably the world's greatest – innumerable times since childhood (and once tried to scale its walls, to capture bats…long story!). Friends working there have kindly taken me behind-the-scenes in several departments, and my 6-year-old nephew is more familiar with the institution than are many adults. But despite having spent a lifetime working with animals at the Bronx Zoo, I am still thrilled each time a new, temporary live animal exhibit opens at AMNH – all are very well done, and perfect for adults and children alike. The current exhibit, Spiders Alive!, is no exception. Although I've collected and cared for hundreds of Arachnid species, and my little sidekick has also racked up some impressive experiences, we have visited several times so far, and enjoyed as much as did any novice!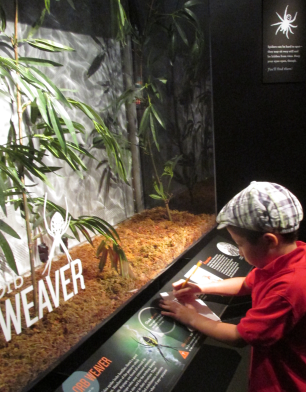 The Displays
As with all similar AMNH exhibits, Spiders Alive! features interesting specimens in large, beautifully-designed exhibits along with state-of-the art graphics, huge photos, hands-on interactive opportunities and even a giant anatomically-correct spider sculpture for kids to swarm over (some held back…I guess it was very realistic to them!). Friendly, well-informed volunteers and staff are always on hand to answer questions and help with using the interactive displays. Entry is timed, so there are never crowds or long waits to see or use anything, and visitors are generally well-behaved and polite.
One display lets the visitor move a magnifier over a live spider to portray an enlarged view on an overhead screen; my nephew gave that one – and the very nice attending AMNH staffer – a workout! Happily for the budding artists among us (please see photos), spider hideaways and exhibit furnishings are arranged in a way that allows all exhibit specimens to be easily viewed.
Learning about Spiders
The species exhibited are used to highlight a number of topics, all of which are well-explained by the graphics. Most obvious is diversity, with arboreal, burrowing, local, exotic, desert-adapted, rainforest-dwelling and other spiders with varying lifestyles being on view now. Other aspects of Arachnid natural history that are illustrated include defense, anatomy, venom, and the uses and structure of silk.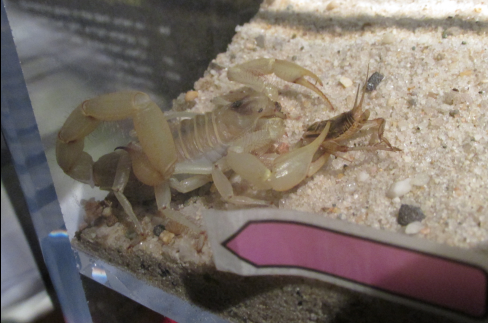 The Animals
Following are notes on several of the spiders currently on exhibit. Spider relatives, such as scorpions and the bizarre vinagaroons and tailless whip scorpions, are also featured.
Fishing Spiders: these large running spiders are for some reason ignored by spider enthusiasts and zoos alike. The local species here in the NE USA, Dolomedes tenebrosus, is an impressive hunter of small fishes and tadpoles (please see photo of a female with eggs, currently in my collection). My nephew readily tackles snakes exceeding his own length, but when I asked him to swim under a dock and capture this spider, he quickly replied "No way, man"!
Goliath Bird-Eating Tarantula: perhaps the world's largest spider, this species is a favorite of private and professional spider keepers. Field reports indicate that they prey upon small rodents, snakes, frogs, lizards and other vertebrates in addition to insects. Certainly, those under my care startled me with their voracious appetites.
Ornamental Tarantulas: Beautifully-colored but rather aggressive – and very fast moving, I can assure you! – these SE Asian spiders are highly arboreal.
Black Widow and Brown Recluse: known to many folks here in the USA, the habits of these two potentially-dangerous spiders are well-explained.
Orb Weavers: Several species are on view, each in the center of a large, intricately-woven web.
Funnel Web Spider: the species displayed is not the highly venomous Australian spider of the same name but rather a harmless and very common US native (Agelenopsis sp.). I've often kept these interesting spiders…but until now believed I was the only one to do so! Vertical "trip lines" knock flying insects onto a sheet-like web, whereupon the spider rushes out and drags its hapless victim down the funnel-shaped retreat. Always happy to demonstrate their talents to onlookers, I find funnel web spiders to be fascinating captives.
Several of the other species featured are well-known or common, but their habits are revealed in a way that cannot help but cause one to appreciate these maligned but fascinating little beasts. Some others that you can see include Mexican Red-Kneed Tarantulas, House Spiders, Trap-Door Spiders and Wolf Spiders.
Further Reading
Spider Hunting Methods – Beyond Webs