Today's commercial turtle foods are, thankfully, light years removed from the yesteryear's dried "ant eggs" (actually ant pupae). While natural foods remain important, some remarkable advances now provide turtle keepers with an important safety net, and simplify the process of providing our pets with a balanced diet. Today I'll review some well-researched prepared diets that are valued by zookeepers and experienced private turtle owners alike.
Note: The excellent products described below should be used as part of a well-rounded diet….in my experience, up to 50% for some species, more or less for others. We do not, as far as I know, have long-term research concerning diets comprised entirely of prepared foods. Whole freshwater fishes remain the best source of calcium for Sliders, Painted Turtles, Snakenecks and most other semi-aquatic turtles. Depending upon the species, fresh greens, produce, earthworms and other foods may be essential as well. Please see the articles under "Further Reading" and post questions below for information on complete diets for specific turtles. Today I'll focus on Zoo Med products, as they have an extensive product line that is backed by over 2 decades of research. I'll cover prepared foods from Tetra, Hikari and others in the future.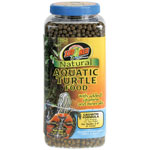 Aquatic Turtle Food
Zoo Med's Aquatic Turtle Food can be an important building block in the diet of a wide variety of turtles. It was formulated for Sliders, Sidenecks, and Asian Box, Spotted and Painted Turtles, but is also useful for African Mud Turtles, Spotted Pond Turtles and others. I especially like the fact that it is available in both hatchling and adult formulas, with the levels of protein and other nutrients adjusted for each.
ReptiSticks
This high protein (35%) floating food contains kale along with other animal and plant products, vitamins and minerals. I came to value kale as a turtle food after discussions with veterinarian co-workers at the Bronx Zoo, but find that it is not widely used by private keepers. Mixing it with the tastier foods included in ReptiSticks is also a great way to induce your "meat oriented" pets to eat their vegetables!
Freshwater Shrimp
Shrimp play an important role in turtle diets, but until recently only marine species have been available commercially.  However, the shrimp in Zoo Med's Sun Dried Red Shrimp is freshwater species (the Oriental River Shrimp, Macrobrachium nipponense) and as such is a great food item for most semi-aquatic turtles. Anecdotal evidence from several of my zoo colleagues indicates that shrimp (and krill) are an excellent calcium source for a variety of turtles…and I cannot recall many that will refuse them!
Gourmet Turtle Food
Dried cranberries and mealworms are among the unique ingredients in Zoo Med's Gourmet Aquatic Turtle Food, which can be used to add variety to the diets of Sliders, Cooters and similar turtles. As always, be sure to feed this and other high protein foods (37% in this product) in accordance with the needs of the species that you keep…please post below for detailed information.
Some Other Ideas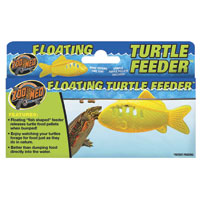 Zoo Med's Floating Turtle Feeder accepts most pelleted foods, is fun to use, and will keep your turtle occupied and active.   Please see this article for more info.
I've long offered commercial turtle foods to various newts, African clawed frogs, shrimp, crayfish and hermit and fiddler crabs. When moistened, many are also readily accepted by millipedes, roaches, crickets and other invertebrates.
Further Reading