It is with good reason that the Emperor Scorpion (Pandinus imperator) is so popular among pet-keepers and arachnid fans.   One of the largest of the world's 2000+ scorpions, the Emperor exhibits complex social behaviors, is generally mild-mannered, and breeds readily. However, one should not embark upon scorpion ownership without understanding the nature of these fascinating creatures, and their specific needs. Unrealistic expectations will dampen the experience of both pet and pet keeper. Following are 5 critical points that the prospective scorpion owner should consider.
Please see the linked articles and post below for detailed care and breeding advice.
Scorpions are "Hands-Off" Pets That Cannot be Tamed
Like most creatures, Emperor Scorpions are capable of learning, and of modifying their behavior in response to captive conditions. However, they are mainly guided by instinct, and cannot in any way be tamed, trained or "trusted" – they will not bond with people.
Please ignore the foolish advice and videos so common on the internet and do not handle your scorpion (please post below for info on safely moving or transporting scorpions). Handling is a stressful event for any scorpion, although this may not be apparent from its behavior. More importantly, while the venom produced by the Emperor Scorpion is not considered as dangerous to healthy adults, children, the elderly, and people with allergies or compromised immune systems may be at risk.
Important Note: Certain scorpion species available in the trade (please see photo) are dangerous, and have caused fatalities. Most are difficult to identify, and are sold under a variety of common names. Please post below for details.
Scorpions are Nocturnal and Secretive
Well-adjusted scorpions will emerge to hunt by day, but they will otherwise remain in hiding until nightfall. In the wild, Emperor Scorpions construct long burrow systems. Providing them the opportunity to do the same in your terrarium will enable you to see a variety of interesting behaviors – much more so than would be possible in bare enclosures. The scorpion terrarium should also be stocked with a variety of caves, cork bark sections and other hideaways. They will not thrive if forced to remain in the open.
Fortunately, red reptile night bulbs will enable you to observe your pets after dark.
Your "Single" Female may Surprise You with Youngsters
Female Emperor Scorpions sometimes give birth a year (or perhaps longer) after mating. As there's no way to know if your female has mated in the past, you may find yourself with more scorpion-related responsibilities than you bargained for!
Female Emperors give birth to live young, and carry them about on their backs until the first molt. They are usually good mothers, and in many cases may be kept with the brood long-term. However, captive conditions can be a stress to them, and cannibalism is common. Please see the linked article and post below for further information on breeding.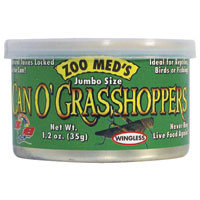 Scorpions Need Live Food
While many captives learn to take canned insects from tongs (do not hand-feed!), live insects will form the vast majority of your scorpion's diet. Many have been raised on crickets alone, but the best long term results will be achieved by providing a varied menu to which roaches, waxworms, silkworms, grasshoppers and other insects have been added.
The "It Doesn't Do Anything" Factor
Ideally, the new scorpion owner will be interested in her or his pet for its own sake. But most of us also wish to see how the animal lives, what it does, and so on. Well-fed scorpions that are not in breeding mode are often about as active as the infamous "pet rock"…and are nocturnal to boot!
Fortunately, red light bulbs now enable us to watch them after dark. If you provide your scorpion with a large terrarium and a deep substrate into which it can burrow, you'll have much of interest to observe. Maintaining compatible groups (they are social in the wild) and, of course, breeding pairs, is also an exciting prospect.
Further Reading
Emperor Scorpion Care, Natural History and Breeding