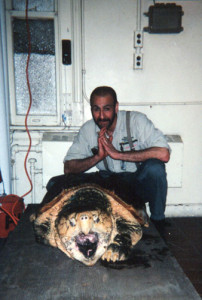 So as not to alienate the many hardcore, dedicated turtle keepers among my readers, I'll start off by qualifying the title. I know people who do quite well with 4 of the 5 species discussed in this article. But in addition to being very well-experienced, these folks have both the financial means and space to meet the challenges posed by these unique creatures. People who, for example, keep 2,000+ individual turtles in good health and can devote entire floors of commercial warehouses or 80 privately-owned ponds to their hobby (or "obsession", as some may say!). Of course, the turtles covered here can be kept by those of more modest means, but they are, in general, not suitable for most private collections. Please be sure to post your own thoughts and experiences concerning these and similar species below, thanks.
To be honest, there's no denying the allure of large, interesting turtles, and I've been most fortunate in having had the chance to indulge my passion for them. My own experiences with the turtles listed below came via jobs with animal importers in NYC decades ago, and later through a career at the Bronx and Staten Island Zoos. Thanks in part to a "turtle-centric" Bronx Zoo curator, the opening of a 77,000 gallon Asian river exhibit allowed me to work with large turtles on a grand scale. Another unique opportunity came in 1997, with the seizure of nearly 10,000 turtles of several species in Guangzhou, China. Many were sent to the USA, where we helped to place them in private and public collections (please see the article linked below).
Fly River Turtle (Carettochelys insculpta)
Unless you are another Fly River Turtle, it's hard not to like these engaging creatures (they are notoriously aggressive towards one another). Equipped with a pig's nose, sea turtle-like flippers and an abiding curiosity, they are among the most unique turtles one can imagine. They are also very responsive…those I cared for would swim about my legs when I entered their exhibit, soliciting food and rubbing against me. One in the Bronx Zoo's collection is now at least 70 years of age.
Unfortunately, despite being protected within their native range, Fly River Turtle hatchlings are still being collected and sold. They are among the most active of the world's turtles, and even small ones require far more room than most people can provide. Adults may top 40 lbs. in weight, and are nearly impossible to accommodate at home. They rarely stop swimming, and my group seemed crowded even in a 77,000 gallon exhibit. And despite all that space, battles were a daily occurrence – how they managed to breed I'll never know (literally, since the eggs incubated unseen within the exhibit!). A susceptibility to fungal and bacterial infections, often centered on the carapace, adds to the difficulties involved in keeping these unusual turtles.
Nile Softshell Turtle (Trionx triunguis)
Although certain populations are in decline, this huge aquatic turtle has a large range, and seems to be doing well in some areas. Youngsters occasionally appear in the trade, where they are quickly snapped-up despite steep price tags.
All softshells are active and interesting, but the Nile may reach 4 feet in length – far too large for all but an outdoor pond in the appropriately-warm region.
They can be quite aggressive as well. I'll never forget a sub-adult kept by a friend. When approached, it would paddle out to the rim of its pool and seemingly "patrol" the area, with the head held high above the surface. Further advances were met with a lightning-fast strike.
African Spurred Tortoise (Geochelone sulcata)
This is the most commonly-kept of the giant Chelonians. They differ from the others covered here in that captive born hatchlings are readily and inexpensively available. They also grow much faster – few novices can imagine that their new palm-sized pet may reach 60 pounds in weight within 5 years, and eventually top 200 pounds. Proper accommodations necessitate an outdoor enclosure in a dry, warm locale. A ½ acre exhibit proved too small for a pair of 80 pounders under my care, and they pushed through or burrowed under a surprising array of barriers.
African Spurred Tortoises are extremely responsive to people, being described as "dog-like" by many. But despite an innate hardiness, they have very specific dietary needs which are misunderstood by many sellers and new owners. And as you can see from the terrier-tortoise story in the article linked below, they are also very tough customers.
Malayan Snail-Eating Turtle (Malayemys subtrijuga)
A delicate constitution rather than large size leads me to recommend against keeping this 6 inch-long Southeast Asian beauty. Fortunately, they now rarely if ever appear in the US trade, but untold numbers are still collected for Asian food markets.
The Malayan Snail-Eating Turtle first caught my eye decades ago, when it sometimes showed up, unexpected and un-named, mixed in with other imports. I read what little information I could find, and did manage to induce several to feed upon the 2-3 aquatic snail species that I collected and bred for them. However, then as now, this was not enough to sustain them long term.
Field studies have revealed that youngsters feed largely upon two snail species. Some adults add mussels, insects, fish and other items to the diet, but even these fail to thrive in zoos or private collections. I've spoken with people who have kept them in seemingly perfect situations, but all wind up frustrated. I continue to look for clues to their proper husbandry…please post below if you have any insights.
Alligator Snapping Turtle (Macroclemmys temminckii)
The old fellow I'm posing with in this article's first photo tips the scales at 206 pounds – is there any reason to discuss why this species might not be the best choice for most folks!? Looking more dinosaur-like than even the Common Snapping Turtle, Alligator Snapper hatchlings are produced by a few private breeders. Small and sedentary, and sporting their famous "fishing lure", it easy to see why they are so hard to resist (I feel the same about Common Snappers, and hatch eggs each year despite first doing so over 50 years ago!).
As this largest of the Western Hemisphere's aquatic turtles is in dire straits in the wild, captive breeding efforts are needed – but this majestic beast is best left to those with private ponds surrounded by nesting beaches.
Further Reading
Are You Ready for an African Spurred Tortoise?
Working with the World's Largest Freshwater Turtles