Both Bearded Dragons and Leopard Geckos are about as close to "perfect" as a reptile pet can be, and either is a great choice for new and experienced owners alike.  But the costs of ownership, both short and long term, do vary between the two.  Novice reptile enthusiasts sometimes obtain their first specimens without fully investigating this point, and may be surprised (or delighted!) at the expenses involved in their care – especially as each can reach 20 or even 30+ plus years of age!  In the following article I'll compare the start-up and long-term costs of owning Bearded Dragons and Leopard Geckos.
There are also major differences in the habits, activity levels and care needs of Bearded Dragons and Leopard Geckos.  Please see the articles linked under "Further Reading" for a comparison of their habits and husbandry, and for detailed care information.  As always, I welcome any questions or observations that you may wish to post.
Start-Up Expenses
Purchase Price
The cost per animal is similar for individuals that exhibit natural coloration.  A huge array of uniquely-colored "designer morphs" of each species has also been developed. Prices for such animals vary greatly, but are in similar ranges for both geckos and dragons.
Verdict: Similar for natural coloration – varies based on color morphs
Terrarium and Cover (single adult)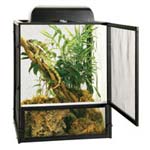 Bearded Dragon: 30-55 gallon aquarium and cover
Leopard Gecko: 10-20 gallon aquarium and cover (larger is preferable)
Verdict:  Bearded Dragons require larger, more expensive habitats

UVB Fixture and Bulb
Bearded Dragon: Full length florescent UVB fixture and bulb
Leopard Gecko:   UVB exposure not required
or
Mercury vapor fixture and bulb
Verdict: With their UVB requirements, Bearded Dragons cost more.  
Bearded Dragon: Incandescent fixture and bulb for basking site
Red/black bulb or ceramic heat emitter (night)
Leopard Gecko:  Incandescent fixture and bulb for basking site
Heat tape or ceramic heat emitter (night)
Verdict: Bearded Dragons require higher temperatures, but the cost is negligible for the equipment.
Other Supplies
Both will also need a substrate or terrarium liner, caves, and driftwood or rocks upon which to bask.  The costs for these items are similar for each species.
Verdict: Other supplies are similarly priced across species
Food
Bearded Dragon (adult): 36-48 insects per week
Leopard Gecko (adult):  15-25 insects per week
and
3 bowls salad per week
Please note that these figures are meant to provide a general idea of expected food intake.  The actual amount of food your lizard will consume is influenced by temperature, the type of insect offered (i.e. 1 cricket vs 4 sowbugs vs 2 butterworms, etc.), general health, age, and the animal's individual metabolism.  Please see the linked articles and post any questions about your pet's specific needs below.
Verdict: Bearded Dragon adults consume almost twice as many insects as leopard geckos – and also require salads. Juvenile requirements can be even greater. Bearded Dragons cost considerably more to feed.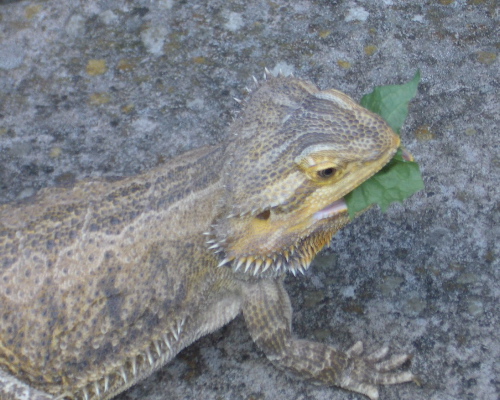 Ongoing Expenses Unique to Bearded Dragons
Bearded Dragons grow significantly larger than do Leopard Geckos, and will need roomier terrariums (please see above) as they mature
UVB bulb and fixture replacement will also be necessary (Leopard Geckos do not require UVB exposure).
Ongoing Expenses Common to Both Species
Although both lizards are quite hardy if properly cared-for, occasional veterinary visits can be expected. The costs for such are comparable to those charged for cat or dog care.  Intestinal impactions (from swallowing substrate) and diseases related to poor nutrition may be encountered by geckos and dragons alike.
If a moist shelter is not available, Leopard Geckos may suffer retained eyelid linings when shedding, while Bearded Dragons that are denied proper UVB exposure will develop metabolic bone disease and related afflictions.
Atadenovirus infections, which are increasing in captive Bearded Dragon populations, are as yet incurable.
Verdict – Veterinary expenses are basically the same for both species
Other Expenses
Substrate replacement and vitamin/mineral supplement costs remain similar for both species over time.  Electrical expenses will also be in the same range, although Bearded Dragons require higher temperatures than do Leopard Geckos (75-110 F as opposed to 72-90 F).
In Conclusion
Overall, a Bearded Dragon is the more expensive pet to maintain, due to this species' needs for spacious living quarters, access to UVB radiation, and large, frequent meals.  However, veterinary care needs cannot be predicted – as few visits by a relatively "inexpensive" gecko can level the field!