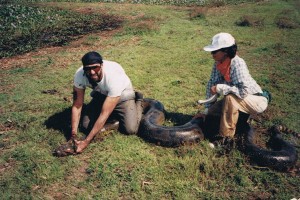 Recently, dramatic photos of an Olive Python, Liasis olivaceus, swallowing an Australian Freshwater Crocodile, Crocodylus johnstoni, have been much in the news.  A very interesting story, no doubt, but actually a 3-4 foot long croc is well within the size range of prey taken by large pythons.  In past articles I've mentioned some of the astonishing snake meals I've been witness to (please see articles linked below).  One, a 60 pound White-tailed Deer taken by a huge Green Anaconda in Venezuela, would be hard for me "to swallow" (sorry!) had I not been awakened by the snake disgorging it below my hammock in the wee hours!  A 5-foot-long Spectacled Caiman grabbed by another took 6+ hours to subdue.  I've also searched my notes for feeding accounts recorded by Messrs. Ditmars, Pope, Greene, Kauffeld and other notables, and thought I'd take this opportunity to share them with my fellow snake enthusiasts…Enjoy!
Following are some of the more memorable meals that I've witnessed or read about.  Please see the linked articles, or post below, for further information, and be sure to let me know of your own experiences.
Big Anaconda Meals I have Witnessed
The Green Anaconda I mentioned above was captured as part of a study on their natural history in the western llanos region of Venezuela.  The snake, which measured nearly 17 feet long, was transported to our research station for tagging.  During the early AM, it disgorged the deer, which had been recently consumed.  The Anaconda pictured in this article was the largest I came across, measuring just over 17 feet long and weighing in at 215 pounds; this seems to be about their maximum size in that habitat (seasonally-flooded grasslands), but larger ones are to be found in forested rivers.  The blood on my hand is courtesy of one of her teeth, which remains imbedded in my wrist as a souvenir…
Other notable Green Anaconda meals include a 5 foot-long Spectacled Caiman, Caiman crocodilus (witnessed by a co-worker at the same site; photo to right is of an American Alligator turning the tables on a Burmese Python in Florida) and a 10 pound Red-Footed Tortoise, Geochelone carbonaria (unfortunately, an exhibit-mate at the Bronx Zoo, long ago!).  I and fellow Anaconda-chasers also called to a site where one was said to be swallowing a large Savanna Side-Necked Turtle, Podocnemis unifilis.  The 14-15 foot long snake had given up or been outwitted by the time I arrived, but she bore long, narrow wounds along the neck – the result, perhaps, of trying to swallow the ill-advised meal.  This snake later died, apparently of an infection.
Size isn't the only means by which Green Anacondas have managed to surprise me.  Pigeon-sized birds known as Jacanas and other small species were commonly taken by snakes measuring 12-15 feet in length.  We also recorded fish and other Anacondas as food items – not all that surprising, but not often documented.  Capybaras were often hunted as well; these rodent giants were also favored by Pumas – a co-worker saw one catch a capybara in broad daylight.
Despite their seemingly-unrefined palates, captive Anacondas can be very picky.  Ducks are the old zookeeper's standby for reluctant feeders, but one Anaconda under my care would take only Muskrats, while another relished free-ranging Norway Rats but refused lab-raised rats of the same species.
People, Dogs, Cats, and Ibex on the Big Snake Menu
Reticulated Pythons, although lacking the Anaconda's girth, are also well known for taking enormous meals.  And, perhaps because they often adapt to life among people, (please see Urban Pythons, below), human predation has been documented.  In fact, a recent study in the Philippines revealed that from 1939-1973, 26% of all Agta men had been attacked by Reticulated Pythons, resulting in at least 6 fatalities!  Please see People as Python Prey http://blogs.thatpetplace.com/thatreptileblog/2012/01/30/people-as-python-prey-giant-snakes-attack-150-kill-6-in-philippines/#.UxehEYVnupE for details.
Some years ago, animal keepers visiting from the Singapore Zoo informed me that a free-ranging Reticulated Python took a 40 pound Cape Hunting Dog from an outdoor exhibit.  Please see this article http://blogs.thatpetplace.com/thatreptileblog/2013/09/12/rock-python-kills-full-grown-husky-in-florida/#.Uxfl3oVnupE to read about a husky that was killed by a feral African Rock Python in Florida.
Legendary zoo-man Carl Hagenbeck reported that a 25 foot long Reticulated Python residing at the Hamburg Zoo consumed a 71 pound Ibex and two domestic goats of 28 and 39 pounds, for a total of 138 pounds of food within a few days!  In the "small but surprising" meal category is a Siamese cat that was eaten – bells, collar and all – inside the palace of a former king of Siam (modern-day Thailand)!
King Cobra makes a Meal of its Mate
The world's largest venomous snake, the King Cobra, favors other snakes above all other foods, and seems not to have as wide a jaw-gape as do similarly-sized individuals of other species (given their alertness and speed, I avoided working close enough to them to check, and am happy to speculate!).
But that does not limit their capabilities in all respects.  During a breeding attempt at the Bronx Zoo (well, we considered it a breeding attempt, the snakes obviously had other opinions!), a 12-13 foot male consumed a 10-11 foot female. We had caged them side-by-side for weeks prior, and the male was well-fed, but to no avail.  Even the deer-eating Anaconda did not appear quite as stuffed as that male King Cobra!
The Largest of all Snake Meals?
The title-holder among giant meal-eaters may well be an African Rock Python that downed a 130-pound Impala (South Africa, 1955).  You can read more about this and similar observations in one of my favorite books, Clifford Pope's classic The Giant Snakes (1961, A. Knopf, NY).  Even by giant constrictor standards, African Rock Pythons seem unusually well-adapted to taking large meals.  Unfortunately, these snakes have consumed people within their native range, and captives have caused human fatalities here in the USA.
Other Snakes
Harry Greene's wonderful book Snakes, the Evolution of Mystery in Nature, holds several accounts of large and unusual meals taken by snakes of other species.  As I recall, some prey items neared and even exceeded the mass of the snakes that consumed them!  Don't miss this book…and please be sure to post your own observations below.
Further Reading