The Green or Carolina Anole, Anolis carolinensis, has introduced generations of herp enthusiasts to reptile-keeping.  Small, active, and willing to breed in captivity, this handsome arboreal lizard makes a wonderful pet.  Although associated with "beginners", Green Anoles are complex creatures, well able to hold the interest of lifelong herpetologists and pet keepers, myself included. A huge array of relatives (there are over 370 anole species!), many available in the pet trade, can be kept in a similar manner.  Today I'll review supplies for Anoles and similar lizards to get you started off right.  Please see the linked articles, and post questions below, for detailed information on care and breeding.
The Terrarium
Although small, Green Anoles active and require spacious terrariums; they become stressed in tight quarters.  A single animal can be housed in a 15 gallon tank; pair or trio should be provided with a 20 gallon aquarium.
The Zoo Med Repti-Breeze Aluminum/Screen Cage is perhaps the best option. It provides critical air circulation and, when placed outdoors, also allows for UVB exposure (glass and plastic filter-out UVB rays).
The extra-tall Exo Terra Terrarium can also be fashioned into an excellent anole habitat.
Terrarium Furnishings
Numerous branches should be provided, along with plants and vines.  Anoles will be stressed in a bare terrarium – plants provide "sight barriers" that offer security and ease aggression among tank-mates.
A wide variety of artificial plants specifically designed for use in reptile terrariums can be put to good use by anole owners.  I favor hanging plants with suction cups…when attached to glass, they greatly increase the cage's usable surface area.  Cork tile backgrounds serve a similar function.
Live plants will help you to create a stunning exhibit.  Snake Plants, Pothos, Philodendron, Peace Lilies and other sturdy house plants will be well-used by these little gymnasts.
Basking sites should be plentiful, as dominant individuals will exclude others from these important areas.  Driftwood, Java Wood, vines and tree branches will all be used by anoles and other lizards.
Substrate
The substrate should be capable of holding moisture.  Cypress mulch, coconut fiber and commercial rainforest substrates are all suitable.  In especially dry environments, sphagnum moss can be added to improve water-retention.
Light
Green Anoles will not thrive if denied access to UVB radiation.  If a florescent bulb is used (the Zoo Med 10.0 UVB Bulb is ideal), be sure that all animals can bask within 6-12 inches of it.  Mercury vapor and halogen bulbs broadcast UVB over greater distances, and provide beneficial UVA radiation as well.
Heat
The ambient, or average, air temperature should range from 80-87 F, with a basking spot of 92-95 F.  Incandescent bulbs should be used to maintain these temperatures.  Temperatures can dip to the low 70's after dark.  A ceramic heater or red/black reptile "night bulb" can be used if night-time heating is required.
Humidity
Green Anoles do best when provided with moderately high humidity levels, but they also require air circulation and dry areas.  The terrarium should be misted at least twice daily.  A screen top, or the screen cages mentioned above, will ensure adequate ventilation.
Small reptile humidifiers and misters can be put to good use in dry homes.
Food
Be prepared to offer your anoles (and all insectivorous lizards) a wide variety of food items.  Crickets alone, even if powdered with vitamins, are not sufficient.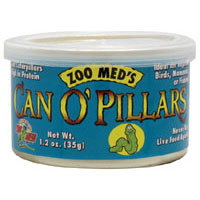 Other critical foods include small roaches, calciworms, butterworms, silkworms, lab-reared houseflies, and field collected invertebrates such as moths, hairless caterpillars, small beetles and harvestmen ("daddy longlegs").  The Zoo Med Bug Napper is a valuable insect-collecting tool.
In order to increase dietary variety, try offering canned silkworms via feeding tongs.
A mixture of papaya/apricot baby food, honey, a liquid reptile vitamin supplement and water should be offered weekly.
Food offered to adult anoles should be sprinkled with a vitamin/mineral supplement 2-5 times per week, depending upon dietary variety (please post below for detailed information). Young animals require supplementation with most meals.  I favor ReptiVite and ReptiCal.
Anoles generally refuse to drink water from bowls; their enclosure should be misted twice daily, whereupon upon they will lap up the droplets.
Further Reading
Green Anole Care & Natural History