Gaily clad in brilliant, neon-hued colors, Day Geckos (Phelsuma spp.) are among the most desirable of all lizard pets, so here is a short article about Day Gecko care.  Many are hardy, long-lived, and relatively simple to breed…but only if they are housed in a properly-designed habitat.  Active and alert, these cautious animals fare poorly in bare enclosures, but are ideally suited for life in naturalistic, planted terrariums.  The security provided by dense plantings and well-placed branches will put Day Geckos at ease and allow you to view a wide range of fascinating behaviors.
Setting up the Terrarium
Day Geckos are highly arboreal and must have climbing opportunities.  "High-style" aquariums make fine homes.  A pair or trio of Spotted, Yellow-Throated or other small species can be kept in a 15-20 gallon aquarium.  A 30-55 gallon tank will accommodate the same number of Standing's, Madagascar or Giant Day Geckos.  Always opt for the largest terrarium possible.
Day Geckos need spacious enclosures that mimic their natural habitat.  Live plants such as Pothos and Philodendron will provide visual barriers between tank-mates and a sense of security.  Rolled cork bark and hollow bamboo sections make ideal hideaways and perching sites, and should be arranged both horizontally and vertically.
Be sure to establish plenty of basking sites near heat and UVB bulbs, as dominant individuals may exclude others from these important areas.
The terrarium's screen lid must be tightly secured with clamps.
Substrate
A mix of potting soil, cypress mulch and sphagnum moss is ideal.
Light
Day Geckos will not thrive without a source of UVB light (but some notable exceptions are known; please see article below).  Natural sunlight is best, but be aware that glass and plastic filter out UVB rays, and that fatal overheating can occur very quickly.
Your geckos should be able to bask within 6-12 inches of a high-output UVB florescent bulb; the Zoo Med 10.0  Bulb, which I have used at the Bronx and Staten Island Zoos, has been shown to out-perform other florescent models.  Mercury vapor and halogen bulbs broadcast UVB over greater distances, and emit beneficial UVA radiation as well.  Be sure to provide shaded areas.
A daytime period of 12-14 hours should be established.
Heat
Ambient temperatures of 82-88 F, with a basking spot of 90-95 F, will suit most (please post below for information on individual species).
Incandescent spotlights may be used by day; ceramic heaters or red/black reptile "night bulbs" are useful after dark.
Provide your pets with the largest home possible, so that a thermal gradient (areas of different temperatures) can be established.  Thermal gradients, critical to good health, allow reptiles to regulate their body temperature by moving between hot and cooler areas.  In small or poorly ventilated enclosures, the entire area soon takes on the basking site temperature.
Humidity
Most Day Geckos are rainforest dwellers and do best in humid surroundings.  Their terrarium should be misted at least twice daily. If your home is especially dry, consider using a small reptile fogger to raise the humidity levels in the terrarium (please see photo).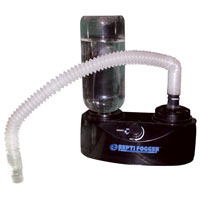 Companions
Males will fight savagely and cannot be housed together. Females are territorial, and must be watched carefully. Pairs, trios (1 male, 2 females) and youngsters may co-exist in large enclosures, but be sure to check dominant individuals do not prevent others from feeding and basking.
Further Reading
Keeping Day Geckos without a UVB Source