Hello, Frank Indiviglio here.  Somewhere in the middle of my career at the Bronx Zoo, I began writing animal care books and articles that targeted private keepers and hobbyists.  Many colleagues warned me that these activities would "ruin my professional reputation' (as if all good zoo men and women did not start out as pet keepers!).  A call from Dr. Kevin Wright DVM convinced me that I was on the right track.  He thanked me for writing a book on seahorse care, which had been helpful to him and his wife.  This man, at the very pinnacle of his profession, urged me to continue my efforts to help, and to learn from, private animal keepers.  As was his way, he declined my compliments about his own work, claiming that my writings filled a greater void (I do not agree, but appreciated the thought).  As I moved out of the zoo field and into full-time writing, Kevin's words served as an important inspiration, and I remain grateful.  In time, he too left zoo work and continued to make immense contributions in his exotic animal veterinary practice.
Kevin Wright passed away on September 26, 2013, at age 50.  I have benefitted greatly from his astounding volume of ground-breaking work, as have countless others, but it is his kindness and willingness to help any and all comers, from 8-year-old garter snake keeper to veterinary surgeon, that I will remember – and miss – most.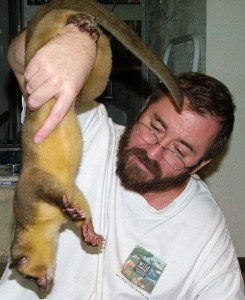 Although best known for his work with reptiles and amphibians, Dr. Wright's interests and experiences ran, quite literally, from ants to elephants.  Wide interests are now a rarity among zoo professionals, but he shattered this disturbing trend.  An all-encompassing curiosity served Dr. Wright well as a zoo veterinarian, and during his tenure as Philadelphia Zoo's Curator of Reptiles and Amphibians.
Rarer still was Dr. Wright's animal-keeping skills. He was the consummate all-round animal person, equally at home with cobras or kinkajous. Most zookeepers have experienced the frustrations that come from working with veterinarians who know animal medicine but not animal husbandry.  Not so with Dr. Wright…he began keeping an array of animals as a child, and kept at it throughout his life (something few zoo professionals will "admit to" today).
In 2001, Dr. Wright broke new ground with the publication of Amphibian Medicine and Captive Husbandry; it remains the standard by which similar books are measured today.  He also authored a mind-boggling number of scientific and popular articles and papers, all highly regarded and many of which contributed new information to the field.  I can't do justice to his other accomplishments here…please see the links below for a better, but not complete, picture.
In articles such as this one, writers always point out the person's "humanness" – those qualities that extend beyond professional expertise.  But in Kevin's case I am not giving lip service to a required nicety. He truly was a good, kind-hearted man and a great deal of fun to be around.  I do not know anyone who can say otherwise about him (and they best not to me!). Kevin retained, as few can, a child-like wonder at the world…a joy and curiosity that he was unable to repress.  In this regard he serves as a wonderful example to others, for he became the foremost exotic animal veterinarian in the USA, if not the world, but remained the ultimate "nice guy" throughout.  He left us better than he found us.
Anyone interested in pursuing a career in animal care, be it as a zookeeper, veterinarian or otherwise, would do well to read more about Kevin Wright.  You will be inspired. The links below will take you to further information, and there are wonderful photos posted there as well, including some of Kevin as an exotic-pet-keeping child. Please also post below if you are in need of career advice; I'll do my best to help out 
Please check out my posts on Twitter and Facebook. Each day, I highlight breaking research, conservation news and interesting stories concerning just about every type of animal imaginable.  I look forward to hearing about your interests and experiences as well, and will use them in articles when possible.
Please also post your questions and comments below…I'll be sure to respond quickly. 
Thanks, until next time,
Frank Indiviglio
Further Reading
Eulogy (American Association of Reptile and Amphibian Veterinarians)