Commercially-prepared diets for reptiles have become quite popular lately, but we do not have long-term research concerning the value of most.  However, when used with care, some can simplify the feeding of certain species while contributing to their health.  Reptomin, for example, is used in many major zoos, and I relied upon it heavily during my years working at the Bronx Zoo's Reptile House.  Success with commercial diets is a matter of choosing one produced by a well-respected company, and pairing it with natural food items in the proper proportions.  Today I'll review one such product now marketed by a leader in pet reptile nutrition, Zoo Med's Bearded Dragon Food (Adult and Juvenile).
The Evolution of Prepared Diets
The Inland Bearded Dragon, Pagona vitticeps, is likely the world's most popular lizard pet.  Yet this fascinating lizard was virtually unknown in the USA, even in zoos, not long ago.  Indeed, many lizard enthusiasts are surprised to learn that all pet trade animals seem to have originated from a small group smuggled out of Australia to Germany in the early 1980's (please see this article for further information).
Due to the great interest in keeping and breeding this species, hobbyists and pet supply companies have researched its captive husbandry quite thoroughly.  As a result, we now know have a very good understanding of the Bearded Dragon's dietary needs, health care and reproduction (please see articles linked below).  An interesting offshoot of this work has been the formulation of several prepared Bearded Dragon diets.  Because of the care and research that Zoo Med puts into all of its products, and the company's outstanding reputation among professional zookeepers and private hobbyists alike, I favor the Zoo Med's formula over others.
Using Bearded Dragon Pellets
Zoo Med Bearded Dragon Food is not intended to be used as the sole diet for either adult or juvenile lizards.  Rather, it is best viewed as a nutritious part of a well-balanced and varied diet.
The product is in pellet form, and contains 24% protein.  Fiber and calcium are also included.  Young Bearded Dragons – up to age 12 months or so – are highly carnivorous in the wild, and likely need comparatively more protein than do adults.  A wide variety of insects should be offered…canned insects mixed into a dish with pellets may encourage them to try the new food.
Adults include a good deal of plant material in their diet, and seem to take readily to the fruity taste of Zoo Med Pellets.  Moistening the food and adding a favorite vegetable will increase acceptability.  Please see the articles linked below, or post any questions you may have, if you'd like detailed information on feeding bearded dragons.
Important Ingredients
I was happy to see that a number of highly nutritious vegetables and greens are used in the preparation of Zoo Med's product.  Several of these, including kale, mustard greens, dandelion, and collard greens, formed the basis of the herbivorous reptile salad I used at the Bronx Zoo.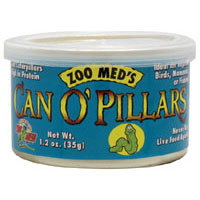 It is not recommended that one add powdered vitamins and minerals to Zoo Med Bearded Dragon Pellets, but I would continue to use these on other foods.  My favorites are ReptiCalcium and ReptiVite.  Please post below for further information.
As usual, Zoo Med has posted detailed nutritional information about this new product.  You can view the ingredients list here.
Further Reading
Bearded Dragon Health: Atadenovirus or Wasting Disease