The Reeve's Turtle, Mauremys reevesii, (a/k/a Chinese Three-Keeled Pond Turtle, Japanese Coin Turtle, Golden Turtle) was one of the first Asian species available to aspiring herpetologists of my generation.  Early-on, I found it to be as hardy, even-tempered and willing to breed as the Red-eared Slider, but easier to accommodate in, especially for one with limited space.  In time, it appeared less often in the trade, and my work with rarer Asian turtles at the Bronx Zoo kept the species "off my radar" for some years.  Today I'm happy to see that both new and experienced turtle fans are again keeping this fascinating denizen of East Asia's wetlands.  In my opinion, Reeve's Turtles make better "first reptile pets" than does the slider, yet is interesting enough for the most advanced turtle-enthusiasts.  Today I'll review its care and natural history…please post your own thoughts and experiences below.
Description
Reeve's Turtles vary from tan to black in carapace color, with many sporting a pleasing combination of several shades, and the head and neck are marked with broken yellow lines.  The carapace's 3 sharp keels lend interest to its appearance.  Most top out at 5 inches in length, but I've seen a number of 8-9 inch long individuals.  Some Japanese populations produce turtles in the 12 inch range.
Color, pattern, size and head width vary widely across the huge range.  Although 1 species is recognized at present, genetic evaluation may lead to the naming of additional species or sub-species.
Natural History
The Reeve's Turtle's range extends from southeastern mainland China to Taiwan, Japan and Hong Kong.  Feral populations are established in the USA and Canada.
It is a wetland species, favoring the quiet, shallow, waters of canals, swamps, ponds and weeded riverbanks.  Youngsters are highly aquatic; adults spend more time on land, but remain close water.
A wide variety of foods, including fishes, frogs, insects, crayfishes, plants and fallen fruits, is taken.
Over-collection for the food trade has caused Chinese populations, which are listed on CITES Appendix III, to plummet.  Pet trade animals in the USA are usually captive-bred.
Behavior in Captivity
Active and responsive, Reeve's Turtles quickly learn to "beg" for food as soon as their owner appears.  They are quite calm – one might say "trusting" – in demeanor and do well in busy locations.   If provided proper accommodations, captive breeding is possible (please post below for details).
The Aquarium
Reeve's Turtles are not strong swimmers, at least when compared to Map Turtles, Sliders and other North American species.  If provided with easy access to land, adults do fine in deep water.  In very large tanks, the water area should be stocked with driftwood and other structures that can be used as sub-surface resting sites.  Hatchlings should be kept in low water…just enough so that they can breathe without swimming.  Floating live or plastic plants will provide hatchlings with security (they are on quite a few creatures' menus, and remain shy for a time!).
A single adult will require a "long-style" 20-30 gallon aquarium; as with all turtles, more room is preferable to less.  Zoo Med's Turtle Tub, equipped with land and water sections, can house several adults.
Wading pools or koi ponds can be fashioned into excellent Reeve's Turtle habitats.  Outdoor housing is ideal, assuming that raccoons and other predators can be excluded.
Although wild adults spend a good deal of time on land, captive Reeve's Turtles can be kept in the same manner as Sliders and other semi-aquatic species.  Except when keeping gravid females, an extensive land area is not necessary.
A dry basking surface is necessary.  Commercial turtle docks and ramps work for smaller specimens, but large adults may sink anything that is not affixed to the glass with silicone adhesive.  Cork bark wedged between the aquarium's sides is another option.
Filtration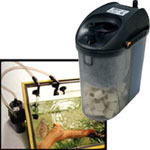 Semi-aquatic turtles are messy feeders and very hard on water quality.  Powerful submersible turtle filters or canister filters are necessary unless the enclosure can be emptied and cleaned several times weekly.  Even with filtration, partial water changes are essential.
Removing your turtles to an easily-cleaned container for feeding will lessen the filter's workload and help to keep the water clean; please see this article for further information.
Substrate
Reeve's Turtles are best kept in bare-bottomed aquariums; gravel traps waste material, greatly complicating cleaning, and may be swallowed.
Light
Reeve's Turtles must be provided with a source of UVB radiation.  Natural sunlight is best, but it must be direct, as glass and plastic filter-out UVB rays.
If a florescent bulb is used (the Zoo Med 10.0 UVB Bulb is ideal), be sure that the turtle can bask within 6-12 inches of it.  Mercury vapor bulbs broadcast UVB over greater distances.  They and halogen bulbs also provide beneficial UVA radiation; water resistant bulbs are ideal for turtle aquariums.
Heat
Water temperatures of 75-82 F should be maintained.  Large individuals may break typical aquarium heaters, so choose a model designed for use with turtles (please see photo).  An incandescent bulb should be employed to heat the basking site to 90 F.
Feeding
Wild Reeve's Turtles start life as meat-eaters but increasingly consume aquatic plants as they mature.
Dandelion, kale, mustard greens, romaine and other produce should be offered.  Elodea, water sprite and duckweed, easily reared in outdoor tubs, may also be accepted.  Spinach, beet leaves and other greens high in oxalic acid have been implicated in stone formation and should be avoided.
Reptomin Food Sticks provide excellent nutrition and can serve as 50-75% of the diet.  Other commercial aquatic turtle diets should also be offered.
Whole freshwater fishes such as minnows and shiners are the best source of calcium for turtles, and provide other important nutrients not present in prepared foods.  Offer fish at least once weekly; a steady goldfish diet has been implicated in liver problems in other species.
Other important food items include earthworms, shrimp, canned snails, and freeze-dried krill.  Crickets, blackworms, calci-worms, roaches and other invertebrates will also be consumed with gusto.
Further Reading