Long-lived, responsive and intelligent, Red-Eared Sliders and similar turtles are among the most popular of reptile pets.  However, aquatic turtles feed in water and are quite messy about it, and produce a great deal of waste.  Keeping their water clear and odor-free, and in a state that promotes good health, is a challenge faced by all turtle-keepers.  Today I'll review some filters that are especially designed for use with aquatic turtles and other reptiles and amphibians; you can view other available models here.
General Considerations
Your turtle's natural history and feeding behavior will greatly influence the type of filter that should be used, so be sure to research these topics before making your selection.  For example, Spotted Turtles will be stressed by fast currents, Soft-shelled Turtles will kick sand about and dislodge intake tubes, the carapaces of Pig-Nosed Turtles are prone to bacterial attack in highly-oxygenated waters, and so on.  Please write in if you need help in selecting a filter.
You can greatly ease the burden on your filter by habituating your turtle to feeding in a separate container, outside of its home aquarium.  Please see the article below for details.
Always leave a bit of old material in your filter when changing carbon or filter pads, so that beneficial aerobic bacteria will seed the new filter medium.
The considerations below apply to aquatic frogs, newts, lizards and other creatures as well; please write in for further information on the species in your collection.
Zoo Med Turtle Clean Canister Filter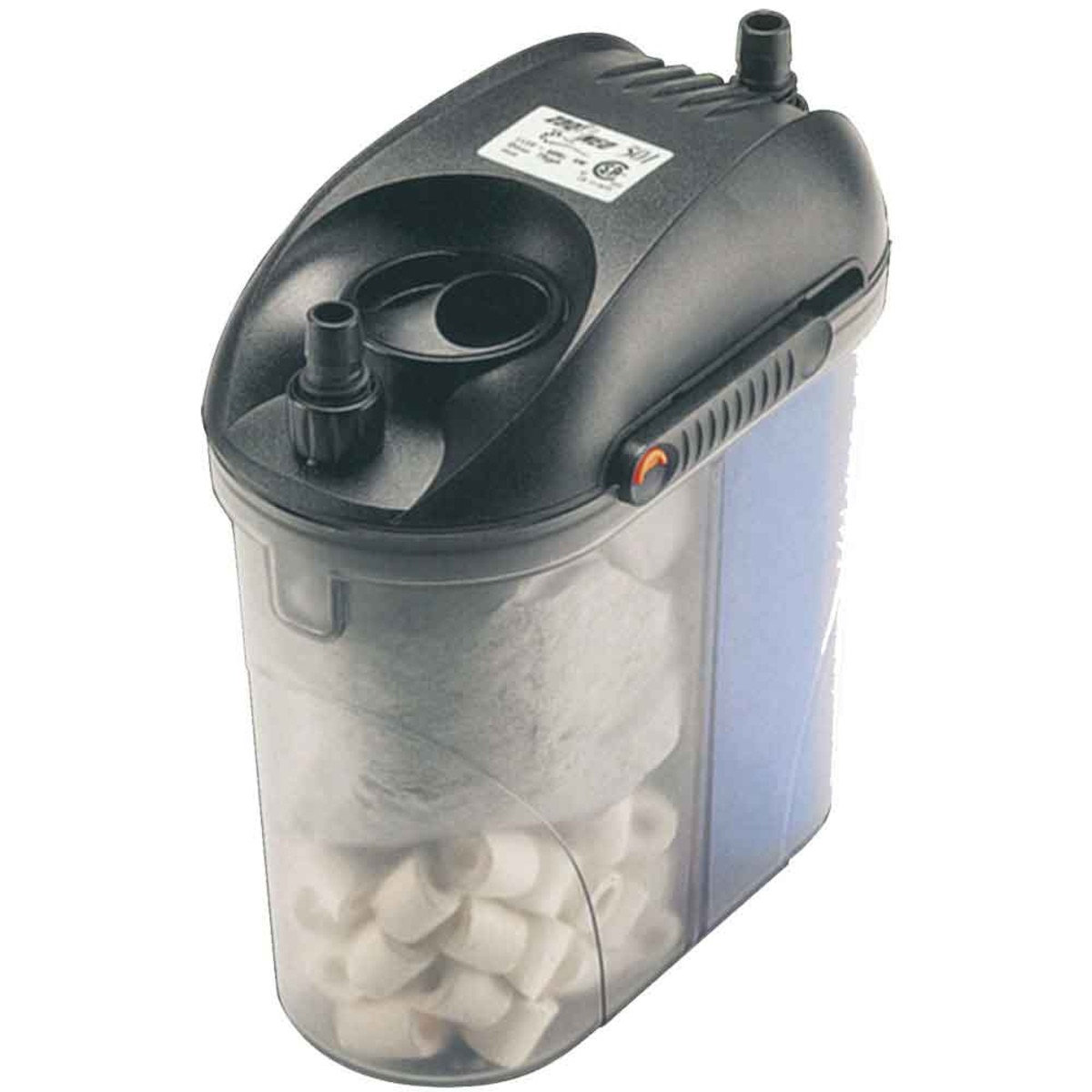 This is my favorite choice in many situations, and is the most powerful filter designed specifically for turtles.  Resembling a fish canister filter in general form, it has chambers for carbon, filter pads and aerobic bacteria colonies, and is simple to clean.  It is placed next to (not below) the tank, operates in as little as 2 inches of water, and can be used to create a waterfall effect.  The largest model can handle tanks of up to 60 gallons in capacity.
Supreme Ovation Submersible Power Jet Filter
The original model of this filter was the first submersible pump/filter combination available in theUSA, and it remains my favorite.  The first that I purchased operated continuously, under great strain, for nearly 20 years!
Today's models are extremely powerful, and are equipped with a movable outlet tube and a spray bar so that strong currents can be avoided if necessary (i.e. for hatchlings).  The Supreme Ovation 1000 pushes 265 gallons per minute, yet is compact and easy to service.
I'm particularly fond of the powerful suction cups attached to all Ovation Filters.  This tiny detail is extremely important but frequently overlooked…turtles often "insist" on detaching lesser filters, which can lead to injuries and motor burnout.
This unique product is actually a basking site, waterfall and powerful filter (to 96 gpm) rolled into one.  Resembling a rock in appearance, the Cliff Filter is a real space saver and great for use with frogs and newts as well as turtles.
The Tetra In-Tank Filter hangs from the side of the aquarium, but mounts inside the tank rather than outside as do older models.  This makes it an ideal choice where tanks are backed up against walls or one-another.
I like the fact that the convenient filter cartridges are changed from the top, without the need to open or even move the filter box. It can operate in low water (2 inches) or a full tank, and so is suitable for use with a wide variety of turtles.
Fish Tank and Pond Filters
Hard core turtle enthusiasts will no doubt run into situations that are not addressed above.  For example, adult Common and Alligator Snappers will require huge tanks or ponds equipped with pool filters, while planted aquariums housing groups of Bog Turtles or other small species might best be served by Fluidized Bed Filters.
Please see our line of 150+ Aquarium and Pond Filters for other options.
Further Reading
 
C insculpta image referenced from wikipedia and originally posted by Dawson