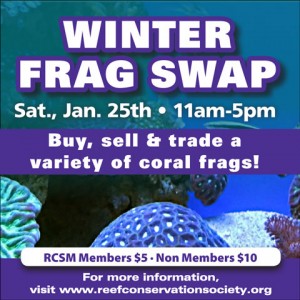 Saturday January 25, 2014 That Fish Place – That Pet Place will be hosting our 6th annual Winter Frag Swap with the fabulous folks from the Reef Conservation Society (formerly known as NCPARS).  Come out and meet some of the best coral farmers on the east coast, and check out the huge selection of coral frags that they have harvested from their private collections.  If you have a reef aquarium, or are thinking about starting one, these frags swaps really are an event that you should attend.  Corals for everyone, from beginner to expert, from common species to rare collectibles.   Along with all the coral available inside the swap, is the wide selection that is always available here at That Fish Place.  All aquarium livestock at TFP is on sale the entire weekend at 25%, which includes an excellent selection of coral frags from many suppliers including Jason Fox, ORA, ACI Aquaculture and many more.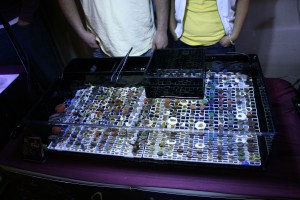 Education is a common bond between the club and TFP, and this event is full of great folks to meet and talk to.  TFP will have our Marine Biologists on hand, and of course the many expert level hobbyists and professionals that are club members are always available to talk shop inside the swap.  Also on hand during the swap will be Manufacturer representatives from United Pet Group (Manufacturers of Marineland, Tetra, Instant Ocean and other great brands of aquatic and pet products) Seachem, Hagen, Hydor, Mars and Acurel to answer any questions you may have about their products.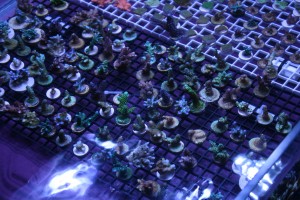 The swap is located inside the fish room of our Lancaster, PA retail store, and is open from 11:00-5:00. The swap is open for anyone to attend, registration for the event is $5 for RCS members and $10 for non-members.  All money raised at the event goes to the club, which is a registered non-profit group.  For more information visit the club website www.reefconservationsociety.org .
You can pre-register for the event, and browse some of the corals available, or list corals that you have to offer, at www.fragswapper.com .  Free Pizza lunch is included with your admission, and there will also be some great raffle prizes that you can purchase tickets for a chance to win, the grand prize is a 60 gallon Marineland rimless reef-ready cube tank and stand.
Come out and join us for a day of great deals, great conversation and great fun.  Hope to see you here!
Dave