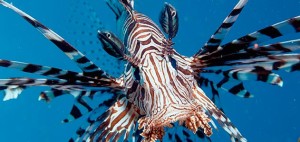 Florida has stepped up its game in recent months, in an effort to combat their serious problem with invasive lionfish.  Some of which has a direct impact on the aquarium hobby in the state of Florida.  In what seems like a very short amount of time, the problem has gone from rumors and possible sightings, to a full out invasion.  Lionfish populations have exploded and now are affecting the entire state of Florida, and neighboring areas of the Caribbean, Gulf of Mexico and The U.S. East Coast.
This story has been one of particular interest for us here at That Fish Blog, and we have covered the topic in detail in past entries from 2007, 2008 ,2010  again in 2013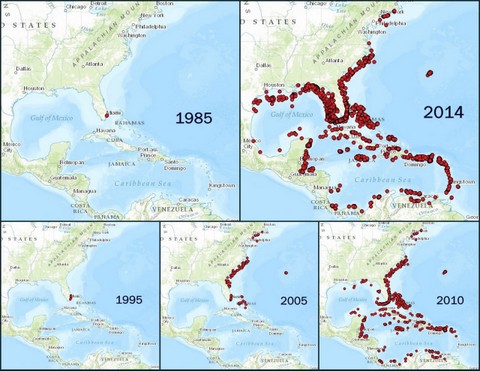 It has only taken about 30 years for these predators to establish themselves, and spread like wildfire.
In a unanimous vote by the commissioners of the Florida Fish and Wildlife Conservation Commission, the State has adopted several measures to help fight against the invasive fish.
Complete import ban of all Pterios genus Lionfish into the state of Florida.  No more mail order lionfish, and no more imported lionfish in Florida pet stores.
Divers are authorized to use rebreathers, in the capture and harvest of Lionfish.  This enables divers to dive longer, deeper and quieter while hunting lionfish.  Use of rebreathers is otherwise prohibited for spear fishing in Florida.
Authorizes the Executive Director to issue permits for spear fishing tournament in waters that would otherwise be off limits to spear fishing.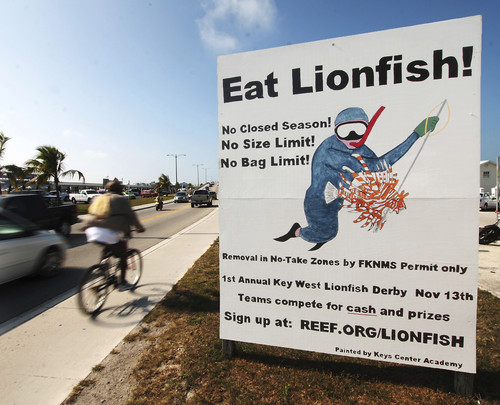 These new regulations will go into Effect on Aug 1, 2014.  Already in place in the state of Florida are regulations that promote and encourage fisherman to hunt and remove Lionfish, which is the only viable option for hoping to control their growth.  There are no minimum size limits, closed seasons or bag limits for recreational or commercial harvest, and a recreational fishing license is not required to harvest lionfish when using dip nets, pole spears, Hawaiian slings or any spearing device designed and marketed exclusively for lionfish.
Reporting Lionfish sightings is now easier than ever, there is an app for that!  Anglers can report lionfish sightings by downloading the new Report Florida Lionfish app on a smart device or by visiting MyFWC.com/Fishing and clicking on "Recreational Regulations" (under "Saltwater") and then "Lionfish."
Try a new adventure, and get involved with efforts to remove lionfish.  Fishing Tournaments, charter fishing, or just recreational fishing is both fun and can serve a good purpose as well.
Thanks for reading,
Dave