Our first blog on Do-It-Yourself aquarium decoration ideas seemed to get so many creative juices flowing that we're back with some more ideas, tips and examples. In the first blog, we covered some general ideas for how to look at different objects as possible aquarium decorations. This time, we're going to get more specific based on some of the most common questions from your fellow hobbyists. I created a few different looks after raiding my kitchen cabinets for inspiration using a 2-gallon glass aquarium and a 1-gallon glass bowl but you can adapt the same ideas to aquariums of any size.
Hershey Bears Betta Bowl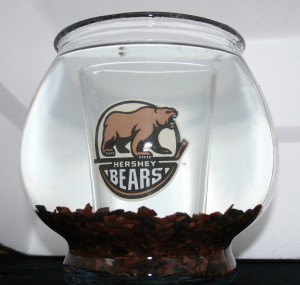 I'm personally a huge hockey fan and have done an NHL Philadelphia Flyers-themed betta in the past using gravel and a plant in their colors. For this one, I kept it pretty simple and used a glass pint glass I had for our local AHL team and my personal favorite, the Hershey Bears, as well as some plant substrate in different shades of brown. Since the logo on the glass is pretty solid, I left the glass empty except for some substrate in the bottom. The glass is sitting on the bottom of the bowl itself and I added the substrate around it to keep it in place.
If I was setting up this bowl permanently for a fish (which I might actually do because I rather liked the way it turned out), I would use a smaller glass like a shot glass or a taller bowl since the top of the pint glass is very close to the water level. This is something to consider if you use this type of design since as the water evaporates, the betta could become trapped in the glass or might not be able to swim over it. You can also fill the glass, but we'll get to that in another example.
Coffee Mug and Clipart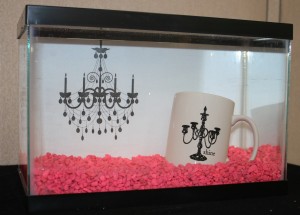 While browsing through my cabinets, I also came across this mug that I picked up at a craft store for a couple dollars awhile back. I'm a fan of the silhouette trend and style and have quite a few of them around my home. For an aquarium based on this mug, I found a similar silhouette clipart image online and printed it onto paper that I could cut out to the size of my aquarium. If this was going to be a more permanent aquarium, I would have laminated this background so it would last longer or painted it on instead (more on that later). The colored gravel came from an old display tank at our store but I think any color that matched the room it was going into would look good with the simple black-and-white silhouettes. There are lots of websites online that have silhouette designs in everything from elegant chandeliers and damasks to Disney princesses or other cartoon characters.
Since coffee mugs are made to be used with hot drinks, most of them can be used in an aquarium like this. As a general rule of thumb, if the mug (or plate or bowl) is dishwasher safe, it is probably safe for the aquarium. I would avoid using any mugs, plates or bowls that aren't dishwasher safe since this usually means they have a less-durable decorative finish and might not be able to withstand being constantly submerged in your aquarium either. As always, be sure to test anything you are thinking about using in the aquarium and check it regularly to make sure the design or glaze isn't changing or becoming delicate over time in the aquarium.
That Fish Tank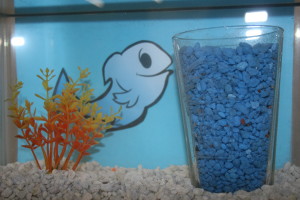 I think that this DIY approach is perfect for businesses. While not all businesses have room or budget for a big, elaborate aquarium, many companies do have mugs or glasses with their logo and they are easy to have custom-made relatively inexpensively. This approach makes a smaller aquarium for a desk, office or waiting room easy and memorable. For this design, I used a pint glass with one of our company logos frosted onto the front. Since the design wasn't colored, I used our company colors of blue, orange and white elsewhere in the tank. The substrate was a plain white gravel and I used a small orange plant as well. For the background, I printed and cut out the smiling fish from our main logo and mounted it on a blue cardstock background. Like with the previous tank, I would laminate this if it was more permanent or use a coordinating vinyl or adhesive aquarium background. Since the design on the glass was plain, I also decided to fill the glass with another colored gravel, blue in this case, instead of leaving it empty like the Hershey Bears bowl. Unfortunately, in this case, the logo got a bit lost instead of highlighted but I kept it here just to show you the possibilities; any glass, vase or bottle can be filled in a similar way in an aquarium to add some color and texture.
Paints and Enamels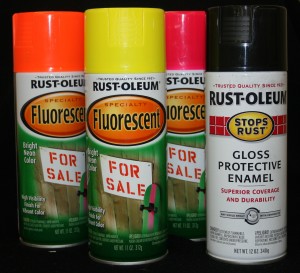 By far, the most frequent questions we received were about one topic…Paint. Paint can effective if used properly but can also badly pollute the water if used improperly so I couldn't write another entry without talking about it again. In our aquariums and systems, we often paint the backgrounds directly onto our aquariums. All of the tanks in the freshwater section of our retail store are painted. Most of the tanks were painted with a latex-based paint. This paint is permanent and water-resistant but can be scrapped off of the glass with a razor blade. It is easy to apply with a brush or roller before the tank is set up but has to be given time to dry before setting it up in its final position. It is a good idea to use masking tape or other shields to protect the areas you don't want painted (like the other sides, frame and inside of the tank).
Several of our tanks were repainted specifically to display the fluorescent GloFish line. Instead of one plain color, we created stencils of tetras and danios and spray-painted the fish onto the back of the plain aquariums with fluorescent spray paint (some even with multiple colors). After the fish dried, the entire back of the tank was spray-painted with black enamel spray paint. Again, this was all done before the tanks were set up and the frames were taped to block it from the paint, but the results are striking. This can be done with any background. For example, if you wanted a permanent background with a design like the chandelier or company logos from above, you can use a stencil to paint it onto the aquarium then finish off the background with your plain color. You can even use the same stencils you may use on your walls to coordinate the aquarium with the room.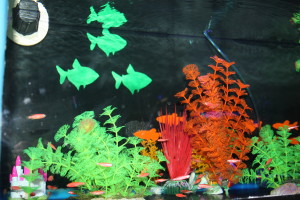 We also use the fluorescent paints and enamel spray paint for the numbered frag plugs in our saltwater coral sections. For these, the clear acrylic plugs are spray painted with the enamel spraypaint and the tops of the pieces are painted with enamel model paint or nail polish to add letters or numbers. Once cured, this paint is durable and safe. Many brands like Rust-oleum and Krylon also make enamel clear-coats that you can use as a protective coating on other pieces. This may not make everything aquarium-safe however; always use caution and test your pieces before putting them in your aquarium and over time after adding them to make sure they are still withstanding the water and wear.
Other Tips and Ideas
In the first blog in this series, we got a lot of questions from our readers about what they can use for their aquariums and thought we'd give you a couple examples of what we've used in our store. If you've ever been in our retail store, you may have seen some rather interesting residents in a couple tanks. We've had a large Halo "Master Chief" action figure in one of our display tanks, a G.I.Joe fighting off Nassarius Snails in our saltwater rows and a tiny AquaMan that moves from tank to tank. Currently, AquaMan is living in a betta bowl on the Fish Room Information Desk. Figurines like these are usually safe for aquariums but try to avoid any with sticker-like decals or any metal parts. Plastic, glass, ceramic, and hard rubber are all usually safe. Check the toy store, party supply stores and craft stores as well and you may be able to find some really unique additions like party favors, vases, beads and many other pieces to make your tank or bowl one-of-a-kind….and don't forget to show us your finished projects!