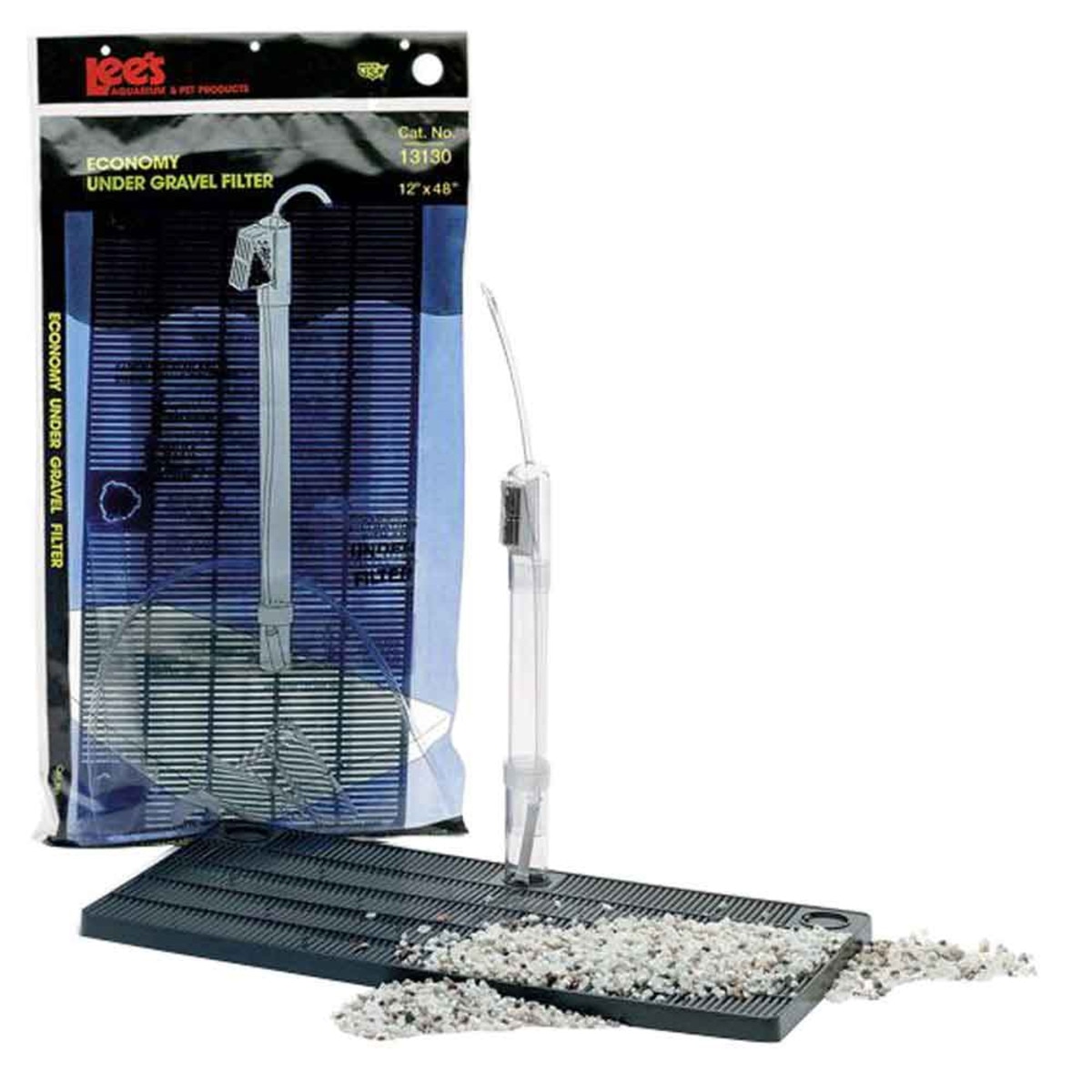 With all of the technological advances in the aquarium hobby, I thought it would be nice to take a look at one of the most rudimentary and long-standing pieces of equipment in the industry – the Undergravel Filter.
Undergravel filters get a pretty bad rap. They are sometimes considered to be a relic of aquarium history, but are they still serviceable? Some hobbyists swear by them and some hobbyists swear at them. How your tank runs using an undergravel filter is dependent on a couple of factors – set up and maintenance. Let's take a look at some of the common problems associated with undergravel filters and explore some solutions.
The Problem: They don't work well enough. Some say undergravel filters are inefficient in tanks that have a lot of fish.
The Fix: Proper set-up is very important with filtration. This is especially true of undergravel filtration. Using the proper size and amount of gravel plays an important role in how well your filter will function. To ensure maximum efficiency with your filter, you will need to make sure that you have at least 2 to 3 inches of gravel above the filter plate. The gravel should be of mixed grades, but make sure that you don't have anything so small that can slip under or through the grating. You will also want the gravel to be evenly distributed across the bottom. Since water flow follows the path of least resistance, an area with less gravel will receive more flow than areas that have more gravel. This will result in less efficient use of the entire filter plate. Another thing to look out for is the use of large pieces of stone or wood that sit flat on the gravel. These ornaments can restrict flow over the area. 
Another recommendation: Use compressed sand airstones instead of the compressed paper ones. Paper airstones get clogged up quickly. You should change airstones out every month regardless of which ones you use, but the sand airstones will work better for longer periods of time.
The Problem: They are DIRTY! Many hobbyists have horror stories about the amount of gunk that builds up beneath the filters over the course of years. Another complaint is that they're a pain to maintain.
The Fix: Fish waste and other detritus is pulled down through an deposited under the filter plate, so it is easy to understand why someone might consider them to be dirty. People assume that you should not siphon the gravel if you have undergravel filtration, thinking it will destroy or suck up the beneficial bacteria. However, proper maintenance will ensure that excessive waste and detritus do not build up underneath the plate.
To keep your filtration running at peak performance you should perform weekly water changes. Mentally divide your tank into quarters. Each week, select a quarter of the tank and siphon the gravel in that section. Using your gravel siphon, go about a half inch down into the gravel. This should remove a good amount of the gunk that settles under the filter plate while keeping the bacterial colonies from being totally wiped out. It should also allow the bacteria to repopulate the area before you have to siphon the next section. By following this regimen, your undergravel filter should not accumulate excessive waste or produce nitrates in large amounts.
Simply put, undergravel filtration has been around so long because they do work. The low-tech and simple piece of equipment can be used successfully for years when maintained properly. Keep your tank stocked properly (don't overload), don't over feed, and do water changes on schedule. You should have the same success with an undergravel filter as you would with more advanced filtration techniques on the market today.  Give an undergravel filter a chance…with proper set-up and maintenance in can be a reliable and cost-effective tool.
Thanks,
Craig