Have you stopped by our Lancaster, PA retail store lately?  If not, you are missing out on our new and exciting 220 gallon cichlid aquarium display.  Created by one of our cichlid experts Erett Hinton, the aquarium is located in our spacious fish room and displays the beautiful and natural environment that cichlids can bring into your own home.
Why Cichlids?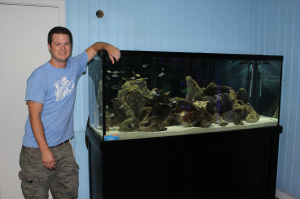 The cichlid species is a diverse group of fish, each with distinct appearances and behaviors that make them attractive to aquarium hobbyists.  "I was fascinated by the color, variety and intelligence," said Erett.   "Something that separates cichlids from other fresh and saltwater fish is that there are more variants in cichlids than any other variety of fish in the world.  New species are still being discovered every day and it continues to make the hobby more interesting."
Erett is certainly no stranger to cichlids.  He has kept them since he was a young teenager, and operated his own cichlid breeding company in Florida.  "I ran it by myself for eight years, with about 200 tanks and 70 different African, South and Central American species."   His experience is a tremendous addition to our knowledgeable fish room staff.
Erett has combined a variety of cichlids from the Malawi, Tanganyika and Victorian Lake regions into a single "African Cichlid Utopia Tank."  The aquarium houses 71 fish selected from our fish room, included with a variety of plecos and clown loaches to give the ecosystem some added variety.
A total of 71 fish in a single aquarium may seem like a few too many, but there is a method to Erett's design.  Cichlids are famously territorial by nature and if they were afforded space to take as their own, they would–and actively defend it.  "Crowding them takes their territorial behavior away," says Erett, "and it creates more peace, with fewer fights and less fish loss."
One resident that stands out is the Cyphotilapia gibberosa or Blue Mpimbwe cichlid.  The Tanganyikan native displays a prominent forehead with an attractive deep blue color.  The Mpimbwe has a calm demeanor and is not afraid to show itself to tank admirers, making it a perfect specimen around which you can build a show aquarium.
The selection showcases the wide variety of colors, shapes, and sizes available from the species that you might not see from other types of freshwater fish.
Equipment
Erett has housed this eclectic mix of fish in a Perfecto 220 gallon Aquarium donated by Marineland.  The six foot long aquarium provides the living space needed for a large number of fish.  Erett chose lace rock and antique coral rock for the natural decor and crushed coral for the substrate.  "The combination of rock elements and substrate help exfoliate higher pH and water hardness, to a degree which cichlids prefer.  It also creates a habitat they can thrive in and replicates their natural environment."
Erett has doubled down on the filtration to accommodate the large bio-load that comes with so many fish.  Filtration for the aquarium includes two Marineland C-530 Canister Filters.  Together they provide the increased water flow and circulation necessary for the large aquarium.  Erett also includes sponge filters with his aquarium set ups.  He explains, "Sponge filters provide surface area for a super colony of beneficial biological bacteria.  It serves as part of the filtration that is never tampered with, allowing me to make larger water changes without harming the natural stability of the aquarium."
Making Cichlids Feel At Home, In Your Home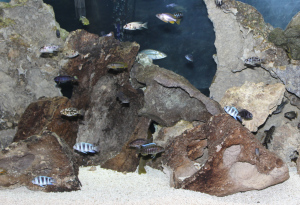 African cichlids generally prefer a pH around 8.2 and enjoy temperatures around 79 to 82 degrees Fahrenheit.  They also prefer low nitrate levels, so frequent water changes and making sure not to overfeed are both critical.  Erett feeds a mixture of Pure Aquatic Cichlid Flakes and New Era Cichlid Pellets, both of which provide necessary nutrients for growth and help bring out natural vibrant coloration.
Replicating a cichlid's natural environment with structural elements like rock and substrate, along with water quality parameters like pH and temperature, gives you the ability to view firsthand how cichlids would behave in their native habitats.  You can watch as they exhibit unique territorial behaviors and engage in breeding activity and ritual, allowing you to experience nature right in your own living room.
Come Check It Out!
This attractive cichlid display tank is just one of several hundred aquariums that can be found in our fish room.  If you'd like to check out the aquarium stop by our Lancaster, PA retail store.  If you have any questions about the tank or cichlids in general, you can ask Erett in person or speak with any of the members of our expert fish room staff.
The following components were used to construct Erett's "African Cichlid Utopia Tank": 
Marineland Perfecto 220 gallon aquarium
Marineland Perfecto 72 in. x 24 in. Glass Canopy
(3) Marineland 30 in. Single Bright LED Fixtures
Approx. 180lbs of lace rock and antique coral rock
Approx. 220 lbs of crushed coral
(2) Marineland C-530 Canister Filters
(2) Marineland Visi-Therm 400 watt Heaters