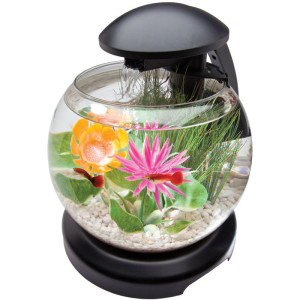 Sometimes shopping for that special someone can be rough, especially if your special someone's favorite past time is aquarium keeping. You may not know what they already have or what they need, or what they use on a regular basis. Here are a few suggestions sure to please the budding fish lovers or seasoned aquarium keepers of the family.
Let's get the obvious choice out of the way. You could play it safe with a TFP gift card. Purchase the card for any amount and allow the recipient to spend at his or her leisure.
Maybe you have a child that has expressed an interest in keeping fish, or you have a friend who may not have the time for a real tank, but would enjoy a low maintenance pet. A betta set-up may be the perfect gift solution! With several new and attractive bowl habitats available, setup is quick, easy, and fun.  The Tetra Waterfall Globe is an excellent option, and it includes simple filtration and LED lighting. Elive Betta Bowl Planters are unique setups that combine betta enclosures with live plants!  Top off the gift by taking the recipient out to pick out a beautiful, easy to care for betta and maybe some decor to adorn their new bowl.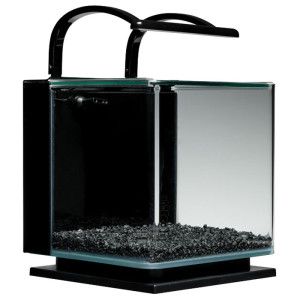 If the person in mind is ready to take the plunge with their first real aquarium, head for an aquarium kit. In the past few years, manufacturers have made the process of getting started in the hobby abd being successful more easy than ever! They've done much of the set-up work for you…after a few minutes of assembly you're ready to fill your tank. Most of the kits we offer come with all the necessary equipment for a successful start. They leave the fun part, picking the decor and livestock, all to you. There are kits that cater to kids, and those that appeal to anyone and blend seamlessly into any home.
There are lots of great products available to appease established aquarists, too. Whether that person likes freshwater or saltwater, keeps goldfish or acropora, there is always something more that can be done to the tank.  Consider buying some new decor they can use to freshen up the tank. There are resin ornaments that cater to just about any taste. Naturalistic driftwood, stone, branches and stumps blend into a natural decorating scheme. Others may prefer a more fantastical design route with shipwrecks, ruins or interesting characters to make the tank "pop".  Help them create a lush aquatic garden with plastic and silk plant life, no special lighting or considerations necessary.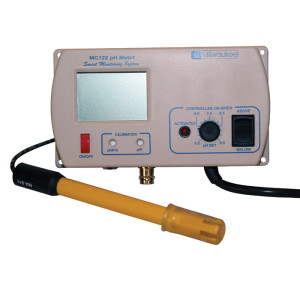 For the more advanced or technically savvy hobbyists, some equipment upgrades might fit the bill.  Aquarium technology has become quite advanced in recent years. Lighting technology is progressing continually, now with super bright, super efficient LEDs on the scene. LEDs are available to light little bowls and big reef tanks. The fixtures are becoming more and more customizable, too, so you can arrange variously sized and colored strips to adjust hue and intensity, or apply changeable colored LED lighting for interesting effects to suit your aquarium's needs. Filtration and monitoring equipment have also evolved. Aquariums fitted with this technology can tell you when maintenance is needed, even interface with your home computer and mobile devices to keep you up to speed on the conditions of your tank, and collect and store data about your tank's chemistry and maintenance needs.
You may wonder why I didn't suggest a new fish or invert on this list. While a new live addition to the aquarium may be very exciting, live gifts (even live plants) are best left to the aquarist to pick out and bring into the tank. If you want to go the live route, go for the gift card or take the aquarist shopping for a new specimen. It may not be much of a surprise, but it allows the aquarist to see the specimen, understand its husbandry and take the necessary measures to ensure a safe introduction to the home aquarium or quarantine system for observation. it wouldn't be a very fun gift if it gets eaten or causes other trouble for the person's prize possession!
I hope this gives those of you shopping for the family fish geek a little direction. Remember, while not as personal, you can always fall back on a gift card if the task is too daunting! Happy Holidays and good luck!