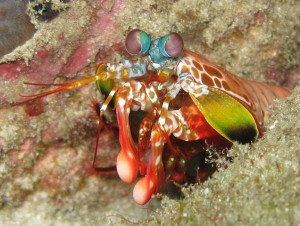 The Mantis Shrimp, fabled ocean warrior and legend of internet Marine Biology humor (Thanks to The Oatmeal, and zefrank1) is the inspiration for research of new composite materials.  There are many applications for high performance impact resistant composite materials, and scientists and engineers are always looking for ways to make materials stronger, lighter and more versatile.  There is particular interest from the military and industry for stronger and lighter materials for armor, aircraft and automotive applications.
Why Study The Mantis Shrimp?
Most Reef Aquarium Keepers are aware of the hunting prowess of the mantis shrimp, and the weapons that they have developed to capture their prey.  There are two main types of Mantis Shrimp, grouped by the form and function of their specialized set of second legs, called raptorial appendages.  The Slasher or Stabber type of Mantis Shrimp have developed a sharp spear that it wields with Ninja like skill, earning it the nickname "Thumb Splitter" from fisherman who find them in their nets.  The Second type of Mantis Shrimp is the Smasher, given its name for the club like weapon that it uses to kill prey and open the hard shells of mollusks, crustaceans and gastropods.  It is the Smasher type of Mantis Shrimp that has scientists and engineers studying its design, looking for insight into designing lighter and stronger composite materials.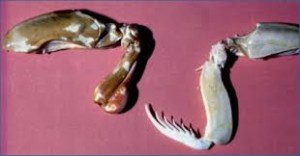 Real Life Beauty and the Beast
The Peacock Mantis Shrimp, Odontodactylus scyllarus, (which is actually neither a mantis, nor a shrimp) is a common species of Smasher Mantis Shrimp found in warm waters of the Indo Pacific and Indian Oceans.  Sometimes kept by the more adventurous marine aquarium keeper, this little Stomatopod is an amazing combination of striking beauty, and ruthless hunter.  The Peacock Mantis can fire its smasher club 50 times faster than the blink of a human eye, at the speed of a fired .22 caliber bullet.  The Club fires so fast, and with so much force, that it actually boils the surrounding water in a process called supercavitation.  The resulting strike and shock wave are devastating to their intended prey.  Mantis Shrimp have been known to break glass aquariums.  Chuck Norris punches with a wet noodle compared to the Peacock Mantis Shrimp.  What has researchers so interested is the amazing durability of the Peacock Mantis Shrimps striking club.  The Mantis can strike its club weapon thousands of times, with a striking force more than 1000 times its own weight without breaking.
The Latest Research
In a recently published study "Bio-Inspired Impact-Resistant Composites" in the Journal Acta Biomateriala, a team of researchers led by University of California, Riverside, in collaboration with University of Southern California and Purdue University studied the structure of the Mantis Shrimp's smashing club.  The team was looking for design elements that could potentially be used to improve industrial composite materials that are used in things like; aircraft, military armor, protective helmets and automotive panels.  What they found in studying the Peacock Mantis Shrimps Club structure was a helicoidal arrangement of mineralized fibers, which made the club incredibly impact resistant and energy absorbing.  They then applied this design architecture into carbon fiber-epoxy composite impact materials, and tested the performance against similar composite materials used in the airline industry. The results showed improvement in the overall material toughness, with real promise for manufacturing in the future.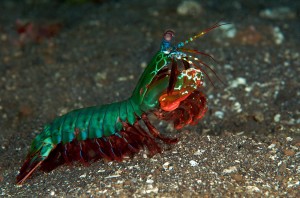 Future Research
 The Mantis Shrimp research showed so much promise, that the research group has been awarded a 7.5 Million dollar grant from the Department of Defense to continue their research.  Ongoing research will include looking at structural designs of more than 20 organisms, like bird's beaks, snail shells, antlers of mammals and others.  All of which are made from relatively simple biological materials like Chitin and Keratin, yet show incredible mechanical durability.  You can read more about the team and their research on the UC Riverside website.
Does anyone else have an image in their heads of a military decked out in Peacock Mantis Shrimp armor, driving Mantis Smasher vehicles?  No, well you should, that would be awesome.
Until next blog,
Dave