Today I'll highlight some fish-keeping items that I'd be pleased to give or receive as holiday gifts. For the most part, I've focused on Reverse Osmosis Systems and Ultraviolet Sterilizers, both of which lessen our workload while enhancing fish and invertebrate survival.  I was first introduced to these tools while working in zoos and public aquariums, and am happy to see that reasonably-priced models are now available for home use.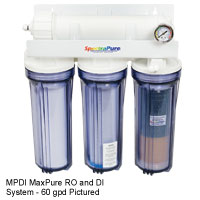 Reverse Osmosis Systems
I first began working with reverse osmosis (RO) systems about 15 years ago, while trying to correct water quality problems that plagued the amphibian collection at the Bronx Zoo.  Those I used were effective, but also huge, complicated, and difficult to maintain…I hated them!  Today's home units are much more user-friendly; instruction manuals are posted online (please see links to individual products below), and customer support is readily available.

Water that passes through an RO system is rendered free of micro-organisms and nearly all chemical impurities, inorganic salts and organic matter.  They are suitable for use with marine and freshwater aquariums.
The SpectraPure RO System  turns out water that is fit for human consumption.  A 1 micron sediment pre-filter removes particulates while the 1 micron carbon filter takes care of remaining organic material and chlorine.  The core of the system is comprised of an RO membrane and a resin-filled multi-layer de-ionization canister.  Upon exiting these filters, water is free of all micro-organisms and most contaminants.
The Aquatic Life RO System is very economical, yet highly-effective.  Relying upon a 3 stage version of the process described above, it is modest in size and easy to maintain.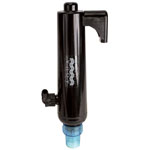 Ultraviolet Sterilizers
Ultraviolet (UV) Sterilizers have been used in both public and private collections for some time, but the range of types, sizes and prices now available is mind-boggling.  UV Sterilizers are well named, for they do indeed sterilize water via the emission of germicidal UV light rays.  These rays disrupt the DNA and/or RNA of bacteria, viruses, fungi, protozoans and other aquatic pathogens.
When used properly, UV Sterilizers are superior to most medications because they prevent infections.  As many injurious micro-organisms enter free-swimming phases after infecting fishes, UV Sterilizers can also function as treatment options, along with medications.  UV radiation also kills suspended algae, thereby enhancing water clarity.
UV Sterilizers can be used in marine and freshwater aquariums and outdoor ponds.  You can review detailed information on a wide variety of high-quality models here.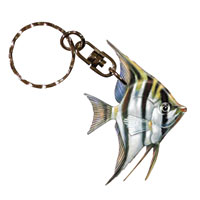 Aquarium-Themed Stocking Stuffers
No matter how old I get, I continue to enjoy well-designed little items that feature fishes and other creatures.  This year, there's a huge assortment of colorful, useful gifts for fish hobbyists to choose from, including magnetic and desk clocks, ceramic coasters, mugs, mouse pads, key chains and magnets.  Some are quirky and amusing, others very realistic.  I especially like this freshwater angelfish.
Please check out my posts on Twitter and Facebook.   Each day, I highlight breaking research, conservation news and interesting stories concerning just about every type of animal imaginable. 
Further Reading