Hey everyone, Eileen again with a quick and interesting bit of news!
One of our former TFP colleagues recently shared with us an exciting experience, and I wanted to pass it along. Erica Palmer, an assistant curator at Coral World in St. Thomas and a former That Fish Place Fish Room Supervisor, knew that the story would peak our interests, and she is sooo lucky for being able to be a part of it.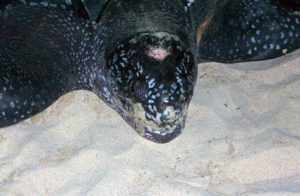 During my college days, I participated in loggerhead sea turtle nesting studies and research along the South Carolina coast. Our volunteers would walk the beach every morning looking for the telltale "crawl", the tracks made by the female turtle as she crawled up the beach to lay her nest, but we very rarely ever caught a glimpse of the turtle in action.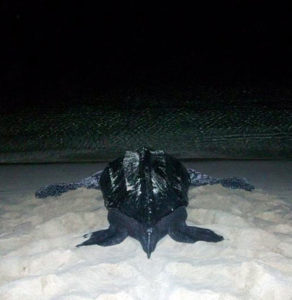 Visitors to a beach resort in the Virgin Islands got to witness the proverbial "Holy Grail" of turtle nestings when a very rare Leatherback Turtle crawled right up to the line of beach chairs in front of guests and hotels workers alike to lay her eggs!  Erica  is quoted in an article as saying that the rare late season nest is likely the last one that this turtle had the urge to lay before heading back out to sea to the turtles' feeding grounds. The nest is now under surveillance by the resort to help keep the eggs safe. The nest is due to hatch in mid to late September.  I hope she sends us an update!
Visit the article on National Geographic's website for more information on this exciting event: http://blogs.nationalgeographic.com/blogs/news/chiefeditor/2009/07/leatherback-turtle-virgin-islands.html