Note:  Please see Part I of this article, New Facts on Vision, Florescence and Movement, for natural history and other general information.
General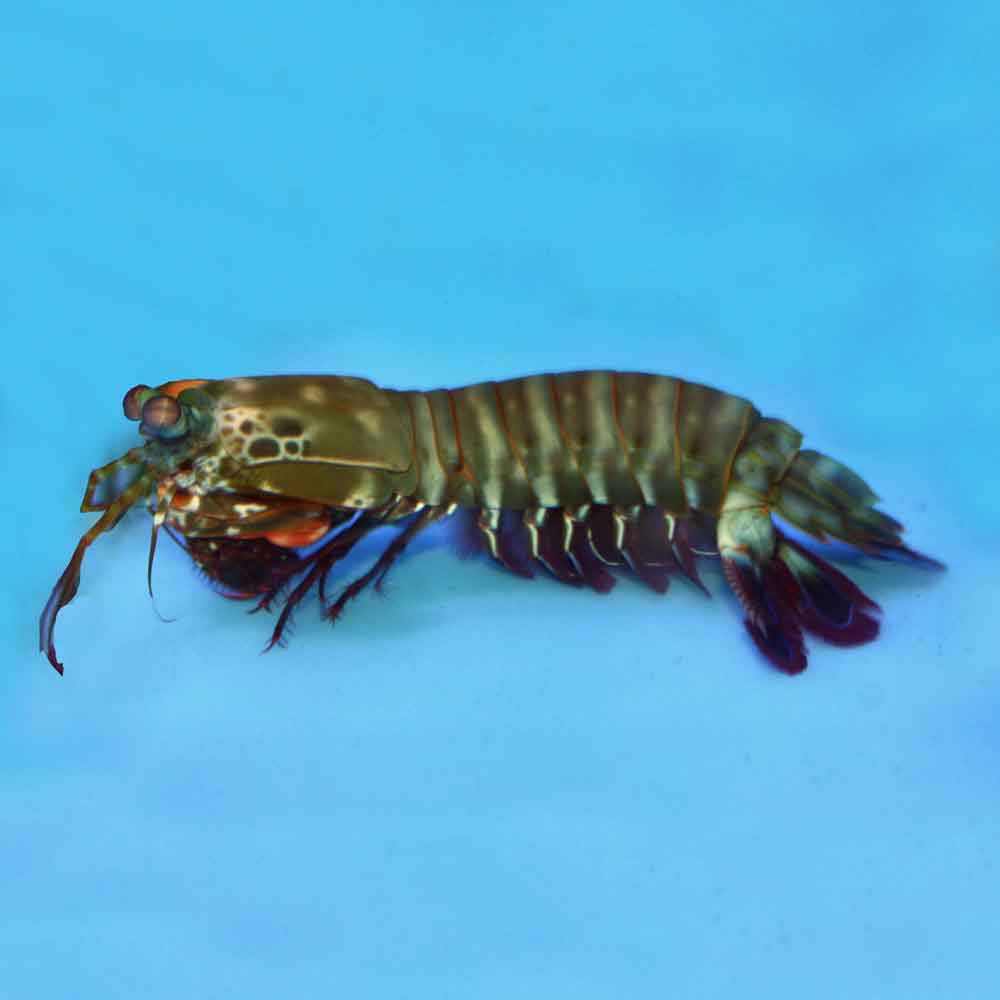 Mantis shrimp engender strong feelings among marine aquarists – to many, they are highly valued pets – responsive, complex and long-lived.  However, small specimens sometimes arrive unnoticed among live rock and make themselves unwelcome by devouring expensive fish and other creatures.  Either way, these alert predators are among the most interesting marine invertebrates available in the pet trade.
Mantis shrimp mannerisms, in my opinion, inspire one to wonder about their intelligence – they definitely seem to peer at their owners, and are very aware of all that goes on around them (see Part I of this article).  The various species exhibit a startling array of neon-like colors, and even the drabber temperate types are often interestingly patterned in tans and browns.
Aquarium Size and Physical Set Up
Although water quality is more easily managed in large aquariums, small mantis shrimp do quite well in 10 gallon aquariums.  Individuals longer than 8 inches or so do best in a tank of 20 gallons or larger.
A secure retreat, preferably a burrow below the substrate, is essential.  Despite their fearless attitude, mantis shrimp will languish and die if forced to remain in the open.  Providing a proper home will result in your seeing your pet more, not less, as it will feel secure enough to behave normally.  Artificial rocks work well. Mantis shrimp will also explore rock and coral mounds, move incredibly large amounts of sand and gravel from one place to another, and sometimes manage to create quite stable burrows of their own.
Temperature and Water Quality
Most species thrive at temperatures of 74-80 F, and at salinities of 1.020-1.022.  However, various species range from temperate to tropical waters, so please research the natural habitats of those you keep.  Setting a light timer to mimic their natural cycle (i.e. varying the cycle for temperate species) will likely benefit their over-all health.
Filtration can be quite simple for small aquariums, (i.e. an under-gravel filter).  Larger aquariums will require a suitably powerful canister or other filter.  Mantis shrimp are reasonably hardy as concerns water quality but are, like many aquatic invertebrates, quite sensitive to air-borne chemicals.  Fumes from cleaning products, paints, floor waxes and such may be introduced into even covered aquariums by the filtration system, and can be toxic to mantis shrimp.  Unexplained aquarium deaths can often be attributed to chemical poisoning.
Feeding
Depending upon the species, mantis shrimp catch their food using either of two distinct methods.  Those which "club" their food and shatter the shell or carapace (see Part I) can take small crabs, crayfish, snails, mussels and other invertebrates.  Those that grab or spear their prey are best fed shrimp, fish and aquatic worms (the "prey bashers" will accept these as well).
Mantis shrimp can be quite choosy when it comes to feeding – sometimes killing a live food item, seemingly as a territorial defense, but not consuming it.  Most will, however, adjust to unfamiliar foods over time.  They will, if you work carefully, usually accept dead food from a forceps (do not use your fingers, as serious injury can result).  This takes time and experimentation – actually, it is quite comical to see them grab an unfamiliar food, retreat into their den, and then contemptuously toss it out as unpalatable!
Tong-feeding will allow you to provide them with a more varied diet than if you relied solely upon live food.  Frozen mussels, clams, prawn, scallops, crab, squid and various fishes are all readily accepted.  Seafood (human) markets and bait stores are also excellent sources of unique food items (different shrimp, fish, snail and abalone species, for example) – including such in your pet's diet will go a long way in promoting good health.
Captive Longevity
Mantis shrimp have lived for over 20 years in captivity.
Handling
Mantis shrimp strike out viciously with their second pair of appendages (maxillipeds) when threatened, and can cause severe injuries requiring stitches (shrimpers and divers call them "thumb splitters").  The speed of this movement has been calculated at over 20 miles per second, and likened to the force of a small caliber bullet.  Indeed, mantis shrimp have broken aquarium glass (this is not at all common, but watch them at feeding time).
They also have a strong feeding and burrow defense response, and so may attack fingers moved in their vicinity.  Always use a tongs or other similar tool when working in the tank, and use a net if handling is necessary.
Social Groups and Breeding
It is almost impossible to house more than 1 mantis shrimp in an aquarium, unless it is very large and complex in its set up.  That being said, their breeding behavior is fascinating (please see Part I) – pairs may remain together for 20 years and care for their eggs and each other.  It would be well worthwhile to attempt to house a pair together, just be sure to have a spare tank set up in advance. 
Males may be distinguished by the presence of organs known as penes.  Used to transfer sperm, these slender structures are at the base of the last pair of walking limbs.  Males of many species are also larger than females.
Mantis shrimp larvae are planktonic in nature, and thus not likely to survive in the aquarium, but a mated pair would be most interesting to study none the less.
Thanks for your interest – we have a lot to learn about these creatures, so please pass along your observations and questions.  Until next time, Frank.  
Additional Resources
Photos of a variety of mantis shrimp species are posted at:
http://images.google.com/images?hl=en&q=mantis+shrimp+photos&um=1&ie=UTF-8