All parrots occasionally sneeze to clear their nares (nostrils).  However, frequent sneezing and the discharge of mucus is cause for concern.  Sometimes, a simple environmental change, such as the use of a humidifier, is all that is required.  In other cases conditions ranging from bacterial or viral infections to tumors, air sac mites or nutritional deficiencies may be involved.  Unfortunately, even if it is obvious that dry or dusty air is playing a role, medical issues cannot be ruled out without veterinary advice – websites purporting to aid in home diagnosis should not be relied upon.  In this article, we'll review some common causes of sneezing and nasal discharge in budgies, cockatiels, cockatoos and other parrots.
General Considerations
As mentioned, an occasional sneeze is normal. The presence of mucus or other nasal discharge (with or without sneezing) should be taken as a danger sign.  Although typically associated with respiratory or related infections, mucus may also be formed when parrots need to rid their nares of dust, or in response to smoke or other chemical irritants.  Either way, prompt action is needed.  While veterinarians can draw some conclusions from the mucus' appearance – clear, thick, coloration, presence of blood, etc. – pet owners should not speculate and attempt to resolve the problem without expert assistance.
Your Parrot's Environment
Environmental problems are easier to remedy than are medical concerns.  While some budgies (parakeets) and some other species are adapted to arid habitats, most parrots are native to environments that are relatively humid for much or all of the year.  Indoor air in dry regions, and any indoor air that is heated or air-conditioned, is too dry for many commonly-kept parrots.
Fumes and mist or smoke from cooking, household cleaners and the like can also irritate the respiratory tract, leading to sneezing and the over-production of mucus.
Air filters, humidifiers, misting, live plants and saline flushes can be used to improve your pet's environment.  However, be careful not to let environmental concerns mask a more serious medical condition – both can exist simultaneously.  Even if it is obvious that your home is too dry for your parrot, err on the side of caution and see a veterinarian.
Medical Concerns for Sneezing
Medical concerns that may be involved include fungal, bacterial, viral or yeast infections.  Parrots that have such ailments will usually show other symptoms as well, including appetite loss, a reluctance to move about, and labored breathing.  However, a bird may battle an infection for some time, behaving normally until a critical point is reached, at which time its condition can decline very quickly.  Therefore, a vet visit is prudent as soon as you notice unusual sneezing or a nasal discharge.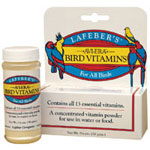 Nutrition
Any type of nutritional problem can weaken the immune system, leaving your pet open to attack by a variety of pathogens.  Vitamin A is of particular importance, as it is vital to the development of the cells lining the respiratory system.  Abnormal cells, common in Vitamin A deficient birds, seem to be easy targets for bacteria and other pathogens.  Most seeds are low in Vitamin A, while pellets and many fruits and vegetables have higher levels.  If your pet is on a seed-based diet, a vitamin supplement should be considered.  Please post below, and see the linked articles, for information on incorporating pellets and produce into parrot diets.
Other Possibilities
Tumors and other growths in the nares, sinuses or related areas may cause dry sneezing.  Parrots suffering from an air sac mite infestation may exhibit labored, open-mouthed breathing.
Further Reading
Nutriberries and Pellets: Improving Your Parrot's Diet
Parrot Health: Labored Breathing and Respiratory Distress