It's FINALLY starting to warm up around here as May has arrived, but the great content hasn't slowed down one bit. Below, are some of the top blogs, aquarium content, and general cool fish stuff we've seen over the last month. Please let us know what you think – or shoot us an email at marinebioblog@thatpetplace.com for items you'd like to see next month!
1. Diving in Cuba and Enjoying a Lionfish Barbeque – Reefbuilders.com
http://reefbuilders.com/2014/05/13/diving-in-cuba-and-enjoying-a-lionfish-barbecue-with-collectors-of-gramma-dejongi//
There were two really cool things about this article. One, that the author got to actually dive in Cuba – we Americans are not allowed to partake in this, and 2. that it highlights the lionfish expansion epidemic we've been talking about for years. The author actually partakes in some tasty Lionfish dinner. The article also references an amazing animated image (shown below) showing the expansion of the Lionfish throughout the Atlantic and Caribbean – courtesy of Reef.org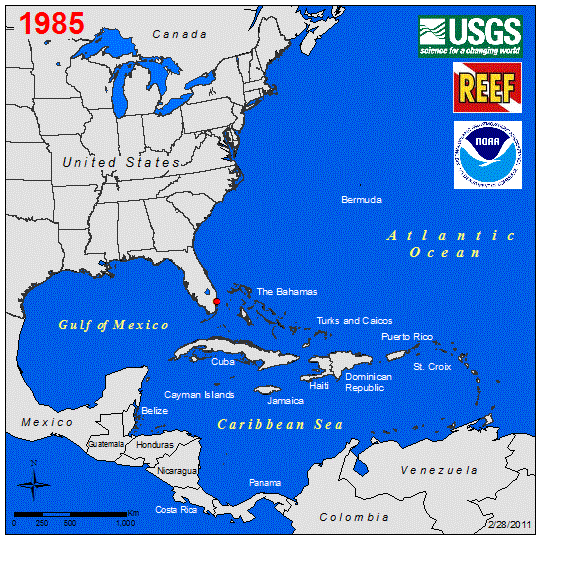 2. Aquarium 101 – Starting a Siphon – That Fish Blog
http://blogs.thatpetplace.com/thatfishblog/2014/05/06/aquarium-101-starting-siphon/
Ahh the siphon! We speak to new aquarists ALL THE TIME here – and we're always recommending water changes as basic aquarium maintenance 101. We are also BIG fans of fish acclimation. So logically, why wouldn't we write a guide on how to actually get a siphon started? Our fish experts put their heads together for this one, including some cool animated .gifs.
3. Choosing an Aquarium Light Guides – That Fish Place
http://www.thatpetplace.com/aquarium-lighting-charts
Each day, we get lots of questions from aquarists of all types and skill levels. These lighting charts are designed to show aquarists precisely which options they have for any freshwater fish tank, freshwater planted tank, reef aquarium, or saltwater fish only. You can match your tank's dimensions to light fixtures your tank could support; while achieving the output you require. Simple, cut and dry charts to choose a light fixture for your tank.
4. Blennies That Eat Algae – Fish Channel
I love this topic, and frankly, I wish we would've written this article. EVERY aquarist is constantly on the lookout for organic ways to take out the ever-present algae buildup. This short write-up gives you a sense of which Blennies are algae gobblers. As if you needed another excuse to add an adorable Blenny..
Let us know what you think – and please send us any articles you think should be included in the monthly run-down.